2012.07.02
The Brand New Facelift of Delta Power Solutions Website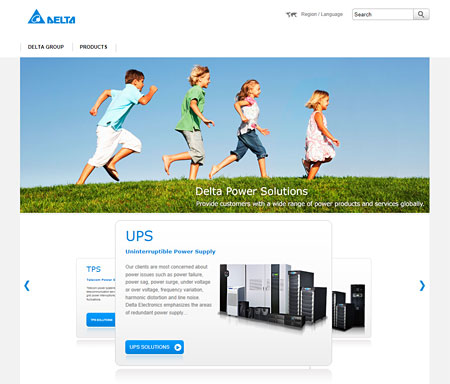 The brand new Delta Power Solutions Website is launched! The new site contains product and service offerings including Data Center solutions, UPS (Uninterruptible Power Supplies) solutions, and Telecom Power Solutions. The revamped site offers a fresh look and feel. It is also designed with a user-friendly approach and rich content in order to provide visitors with great user experience.
User Friendly Design
With the user-friendly, client-centric and well structured design, visitors can easily and quickly spot the information they are interested in without having to browse through unnecessary web pages. In addition, when visitors would like to probe further on certain topics, the related information is easily to be found, including access of contact windows.
Enhancement of Content Richness
With Delta's expertise and experience on power solutions, the provision of in-depth and rich content to our customers is a never-ending task. Detailed information on products, solutions and services is open for all visitors. It is presented and can be accessed via various means as well, including web pages, downloads, and videos. Moreover, all the events, news, etc happening in every single corner in the world that has our footprint can be easily grasped by visitors not only from the website but also from the e-newsletter that visitors can sign up to.