2012.12.01
Delta Rolls Out High-Efficiency UPS Ultron DPS to Strengthen Its Line of High Performance UPSs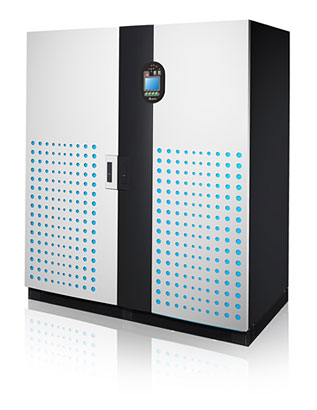 Delta's Mission Critical Infrastructure Solutions Business Unit rolled out the new
Ultron DPS 300/400kVA
high performance uninterruptible power supply (UPS) on top of 160/200kVA models to China, Taiwan, EMEA, Russia, India and South America. In November 2012, Delta showcased the Ultron DPS series at the China International Industrial Fair (CIIF) to boost its recognition in the market.
"After introducing the DPS 200kVA to the China market, the Ultron DPS was very well received by customers and it is being installed to protect a wide range of mission critical applications," said Mr. Dennis Lin, Chief Engineering Officer of Delta's Mission Critical Infrastructure Solutions Business Unit (MCIS BU). "Just to name a few: It is in a leading packaging company in India to protect a printing process line; in a children's hospital in Russia to safeguard power used in treatment rooms, laboratories and drug cold storage. It has found application for the power protection of telecom infrastructure, datacenters, and manufacturing, such as for solar products, bearings, and more." Mr. Lin further stated, "With the roll out of the 300/400kVA model, our Ultron DPS series now ranges from 160kVA to 400kVA. With the industry trend for highly efficient transformerless UPSs, Delta plans to launch more models in this series in 2013."
According to a Gartner prediction in July 2012, "high-energy-efficiency UPSs" will become the market mainstream in less than two years, and will significantly lower customer costs and lead to better carbon footprints. The Ultron DPS provides customers with the benefits of a stable power supply, high power efficiency, low capital investment and low overall operational cost. Below are four outstanding features of the Ultron DPS.
High reliability
It is designed with a wide input voltage window (140Vac~276Vac) and output voltage regulation (< ± 1 %), allowing the UPS to operate in harsh electrical environments and provide a stable power supply. In addition, it supports
N+X or 2N+1 configurations to meet up to tier 4 reliability for mission critical datacenter applications. The intelligent fan speed control and optional redundant fan prevents the UPS from overheating. The built-in static bypass design, redundant aux power and STS control circuit also assist in delivering the highest system reliability.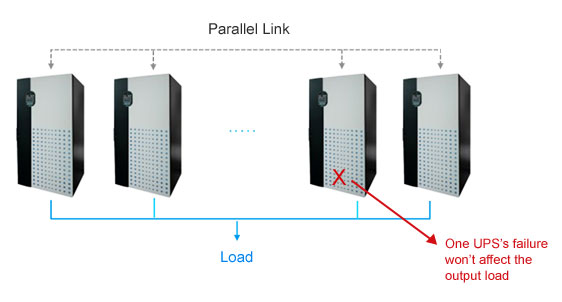 ▲ N+X Configuration 
Outstanding efficiency and low total cost of ownership
The Ultron DPS series features industry leading performance of up to 96% AC-AC efficiency supported by state-of-the-art triple level inverter (TLI) technology. Its output power factor of 0.9 delivers more power to the load to save on operation costs. Low iTHD (<3%) eliminates the need to oversize the generator to save on capital investment. What is more, the Ultron DPS series' leading power density makes it the most compact and space-saving UPS on the market. Its light weight also reduces transportation costs.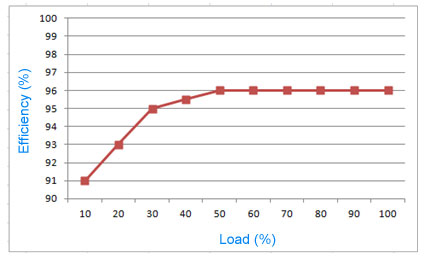 ▲ Even at 30% light load, the Ultron DPS still achieves 95% efficiency, helping customers save on operation costs.
Flexibility
The parallel expansion of the Ultron DPS without extra hardware allows quick capacity upgrades to meet business growth. In addition, customers can save installation space and reduce battery cost via common battery configuration in parallel mode. The high adaptability of charging design can fulfill customers' various requirements, including the adaptation of multiple types of batteries, minimization of charging time, and battery investment optimization.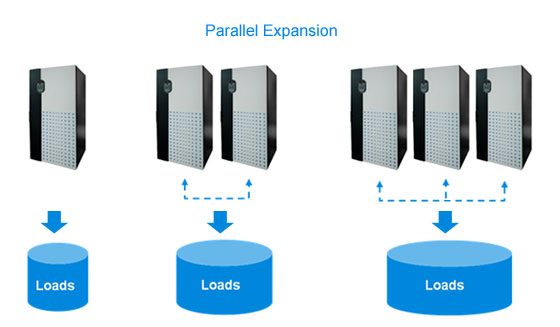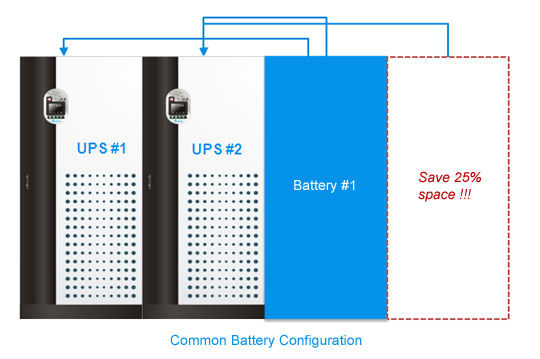 Easy maintenance
The design of the hot-swappable fans can reduce the MTTR to enhance system availability. The Ultron DPS is also designed to provide quick diagnosis of the problem caused by fan failure and switch faults to shorten repair time. Its built-in manual bypass switch allows "zero downtime" to ensure system availability during service maintenance.

▲ Manually switching to bypass source avoids downtime during service maintenance.
With the roll out of the 300/400kVA model, the Ultron DPS series currently ranges from 160kVA to 400kVA. With industry demand for highly efficient transformerless UPSs increasing, Delta expects to launch more models in this series in 2013.
The Ultron DPS series provide high power performance and high system availability, thus leading to high TCO (Total Cost of Ownership) savings and powering our customers' competitiveness.