2012.06.28
Delta Electronics Announces New Management Team, Yancey Hai Appointed as Chairman and Ping Cheng as CEO.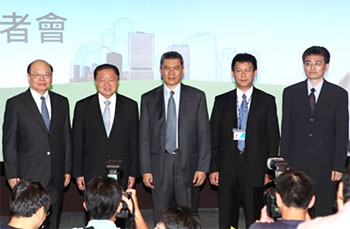 Taipei, June 28, 2012 — Delta Electronics, INC. announced today that its board of directors has met and proposed the following changes in executive positions: Yancey Hai, Delta's longtime vice chairman and CEO, will take over as chairman of Delta's board of directors. President and COO, Mark Ko, will take over as vice chairman; president of China operations, Ping Cheng, has been appointed as company CEO; senior vice president Johnson Lee will be president and COO. Delta's founder and chairman Bruce Cheng will continue to serve on the board as honorary chairman.
"To ensure Delta's sustainable operation, I have planned the succession thoroughly," said Bruce Cheng, Delta's founder and honorary chairman. "I started the handover when I appointed Yancey Hai as Delta's vice chairman and CEO eight years ago. Now Mr. Hai has been appointed as chairman and I am confident that he will continue to lead Delta to the next level."
Delta's new chairman Yancey Hai stated, "Serving as chairman is a new responsibility and I will do my best. Each echelon in Delta's executive management team, from president, vice presidents to general managers, consists of well-experienced managers who have joined Delta for many years, which makes the system much more stable."
Ping Cheng, Delta's new CEO, spoke further about the company's future development, "Under the leadership of new management, Delta will still focus on three business scopes: Power Electronics, Energy Management, and Smart Green Life. We will also continue to build Delta's brand, provide total solutions, and strengthen our relationships with regional customers and channels, while 'Focus' and 'Deliver' remain our operation policies for initiating more opportunities."
Delta's Board of Directors consists of 10 directors and 3 independent directors. In addition, Delta sets up an Audit Committee and Compensation Committee to complete corporate governance. Chairman Yancey Hai will lead corporate governance and board operations; Vice Chairman Mark Ko will manage Delta's related companies and lead the integration of cross-business techniques and products to provide total solutions; CEO Ping Cheng will be responsible for organization operations and new business development; and President and COO Johnson Lee will oversee all business unit operations.
Board of Directors:
Title
Name
Responsibilities
Founder & Honorary Chairman
Bruce Cheng
•Instruct Delta's future development
•Promote Delta's mission statement, "To provide innovative, clean and energy-efficient solutions for a better tomorrow."
Chairman
Yancey Hai
•Lead corporate governance
•Lead board operations
Vice Chairman
Mark Ko
•Manage Delta's related companies
•Lead the integration of cross-business techniques and products to provide total solutions
CEO
Ping Cheng
•Be responsible for corporate operations
•Initiate new business opportunities
President & COO
Johnson Lee
•Oversee all business unit operations
Independent Director: 
| | |
| --- | --- |
| Name | Academic and Professional Experiences |
| Tai-Sheng Chao | BA Tamkang University / Chairman of 3M Taiwan Ltd. |
| Yung-Chin Chen | MA Accounting, Soochow University / CPA of Pu Hwa Accounting Firm; CPA and Partner of PwC Taiwan |
| Tsong-Pyng Peng | Ph. D. Materials Science and Engineering, University of Illinois at Urbana-Champaign / Principal, Yuan Ze University; Professor, National Tsing Hua University; President, Materials Research Society-Taiwan |
Director:
| | |
| --- | --- |
| Name | Academic and Professional Experiences |
| Bruce CH Cheng | BSEE, National Cheng Kung University / Chairman of Delta Electronics, Inc. |
| Yancey Hai | MS Global Management, University of Dallas, U.S.A. / Vice Chairman & CEO, Delta Electronics, Inc.; Country Manager, GE. Capital |
| Mark Ko | BS Control Engineering, National Chiao Tung University / President & COO, Delta Electronics, Inc. |
| Fred Chai-Yan Lee | Ph. D., Duke University, U.S.A. / Member of Technical Staff, TRW System; Professor, Va. Tech, U.S.A. |
| Ping Cheng | BA, Hayward University, U.S.A. / Vice President & Head of Power System Business Group, Delta Electronics, Inc. |
| Simon Chang | EMBA, Chung Yuan Christian University / Head of Industrial Automation Business, Delta Electronics, Inc. |
| Albert Chang | EMBA, National Central University / Senior Vice President & Head of Power System Business Group, Delta Electronics, Inc. |
| Chung-Hsing Huang | Ph. D. Management, University of Texas at Austin / Associate Professor, National Taiwan University |
| Steven Liu | Department of Mechanical Engineering, National Kaohsiung University of Applied Sciences / Chairman and CEO of Cyntec Co., Ltd. |
| Johnson Lee | EMBA, National Taiwan University / Senior Vice President, Delta Electronics, Inc. |