2012.03.12
Mission Critical Infrastructure Solutions (MCIS): The Power Behind Competitiveness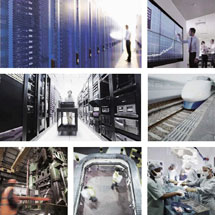 With its expertise and experience in power management and energy efficiency, the Mission Critical Infrastructure Solutions (MCIS) business of Delta Electronics Inc. positions itself as: "The power behind competitiveness". MCIS plays an important role in making our customers' businesses more competitive. We fulfill this role by providing highly reliable and efficient power management products and datacenter infrastructure solutions to ensure the continuity of our customers' mission critical operations while reducing their Total Cost of Ownership (TCO). Delta MCIS is a powerful and trustworthy partner to companies that strive to outperform the competition.
The Delta MCIS portfolio covers products from UPS (uninterruptible power supplies) to data center infrastructure solutions – InfraSuite – with a comprehensive range of services.
Delta UPS Solutions
The Delta UPS business has more than a decade in designing, manufacturing and marketing UPSs globally. Delta is committed to innovating technically superior products and providing energy efficient solutions for a wide range of home, office, data center and industrial applications. Our client base covers world class enterprises in the areas of semiconductors, optoelectronics, food processing, finance, petrochemicals and telecommunications.
Delta UPS solutions include a full line of UPSs and management software, and we deliver industry-specific solutions worldwide to a broad range of market sectors and industry leaders. Our UPS solutions not only ensure uninterrupted processes with unmatched reliability but also meet your growing business demands with uniquely-designed scalability and flexibility.
Delta's UPS product portfolio includes one- and three-phase UPSs as well as online and line-interactive systems. The full product range comes in four models based on load type:
Agilon family: for personal computers and peripherals
Amplon family: for servers and networking equipment
Ultron family: for data centers and industrial facilities
Modulon family: for modular UPS systems that offer scalability and redundancy in a single frame
Delta InfraSuite Data Center Infrastructure Solutions
Enterprise growth and IT equipment have become so closely linked that planning and building a high performance data room is one of the most critical issues for IT managers today. Delta Group is the world's leading provider of power management and thermal management solutions. The expert teams at Delta MCIS have developed a new generation of data center infrastructure solutions: InfraSuite. The goal of the InfraSuite business is to provide optimal data centers solutions that help companies reduce TCO and outperform the competition. Delta InfraSuite includes power systems, racks & accessories, and environmental management systems.

InfraSuite advantages include:
Modular design for quick and easy assembly
Scalability to match data center with enterprise growth
Optimized installation and operation costs
High efficiency, energy-saving power components for eco-friendly data rooms
Easy integration with all data room structures
A complete environmental management system for worry-free operations