2021.09.06
"Influencing 50, Embracing 50" Global Events: Delta's 50th Anniversary Family Day at Chungli Plant 5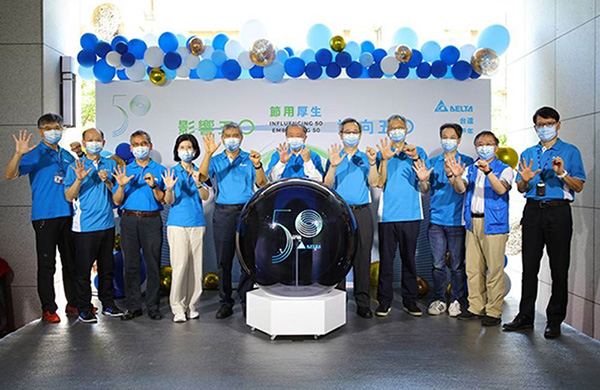 Delta has launched a series of "Influencing 50, Embracing 50" global events to celebrate the company's 50th anniversary. At Chungli Plant 5, the largest Delta plant in Taiwan, the company's Brand Management Division, Corporate Communications, Human Resources, and factory affairs team jointly held the plant's first Family Day event on August 28 and 29, 2021. Employees and their families from the Taoyuan Plants and the Chungli Plants, as well as retirees who have helped the company grow were invited to the event. The attendees could review all of Delta's critical moments over the past 50 years, as well as look ahead to Delta's sustainable development for the next 50 years.
Mr. Bruce C. H. Cheng, Founder and Honorary Chairman of Delta, stated "Delta has grown step-by-step from a small factory with only 15 people located on the edge of rice fields to an award-winning global enterprise. I wish to express my sincere gratitude to all of Delta's employees for your efforts as Delta's achievements would not be possible without your contributions. In particular, my profound gratitude goes to the group of partners who always believed in me and supported me in the early days of the company. They did not shrink from all kinds of problems and always achieved their tasks as required. What happened 40 to 50 years ago seems to have happened just yesterday. On Delta's 50th anniversary, I hope that we, by building on the solid foundation developed over 50 years, can continue to innovate our products and services, and join hands with our partners in all sectors to continue our growth".
The newly launched Flagship Showroom at Chungli Plant 5 showcased the innovative products and solutions of Delta's various business units. Delta ICT BG showcases the total solution for Telecom energy solutions and data center solutions to echo changes for the infrastructure in 5G Era. Data volumes will grow rapidly especially with the 5G roll-out and advent of low latency applications like autonomous driving, remote healthcare etc. in the near future. In response to this trend, information infrastructure has to change too.