Metro systems in China
Delta NH UPS systems power public transport in the largest cities of the world.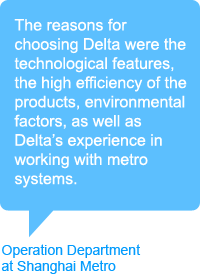 Delta is the partner of choice for the urban metro systems in Shanghai, Beijing, Nanjing and Guangzhou, and soon also in Hangzhou, Shenyang and Chengdu, China. The metro systems carry 10 million people each day – with the help of Delta. The safety and reliability of the metro operations are based on 13 telecom subsystems including transmission, wireless communication, telephone, closed-circuit, time-keeping, emergency wireless access and passenger guidance systems, just to name few. The cities rely on public transport, and therefore continuous, high-quality power supply is critical under all circumstances.

In making their decision, the public transport authorities considered safety and environmental factors. Delta came out on top. The control centre, station and depot telecom equipment were all connected to Delta's online UPS and maintenance-free batteries.
Delta's NH UPS is a market leader in energy efficiency. "We have focused on minimizing battery charge and discharge cycles to extend battery life and to save energy. The ECO mode is a good example. In ECO mode, power is supplied by batteries alone in the event that power supply fluctuations exceed the allowed range or an outage occurs. This way we can reach an overall efficiency of up to 97.5%," says Dennis Lin, R&D Senior Manager at Delta.

"The reasons for choosing Delta were the technological features, the high efficiency of the products, environmental factors, as well as Delta's experience in working with metro systems," says Mr. Chang, Operation Department Manager at Shanghai Metro. "Digital control technology, modular design, redundancy without any additional connection cards, high power factor, low input current harmonics and advanced battery management technology all played a part in the decision," he continues.

"All this brings us the enhanced reliability that is a must in our operations. A further benefit is that capacity upgrades are smooth. Of course, the high-end power factor and low input current harmonics also mean lower generator capacity requirements and less cabling, fuses or breakers, translating into lower costs," finishes Mr. Chang.

Hangzhou, Shenyang and Chengdu will open their metro systems in the near future. Delta is their chosen partner for securing power supply.