Delta supports world's leading IT hardware manufacturer to build one of the most efficient data centers for KLU in India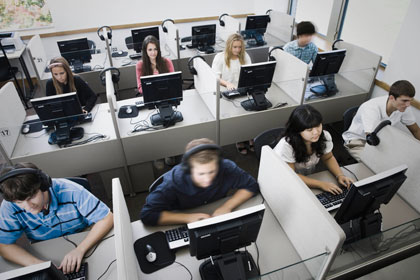 Delta Power Solutions (India) Pvt. Ltd. recently has achieved this prestigious position in offering cutting edge solutions and products for world's leading IT hardware manufacture to win Koneru Lakshmaiah University (KLU) project.
KLU required solutions to build a 500sqft data center in Andhra Pradesh, India. KLU selected the world's leading IT hardware manufacturer's bid to build their data center. The world's leading IT hardware manufacturer in association with Delta offered KLU the Delta InfraSuite Environment Management System and Modular UPSs to create a more energy efficient and cost effective data center.
The data center segment is undergoing a fundamental change in India. As ever-increasing demands are placed on performance and capacity, the importance of cost and energy efficiency grows. There is a quest for solutions that balance efficiency, reliability and costs. As per KLU's request, the world's leading IT hardware manufacturer needed to reduce its solution cost to win the bid from other system integrators.
Delta proposed its Environment Monitoring System (EMS) solution to easily and cost effectively replace a more expensive Building Management System (BMS). Energy efficiency in a data center is critical and Delta selected the most efficient technologies available. Using novel solutions Delta can continuously control the data center's level of energy consumption.
Delta's EMS contains the EnviroProbe and EnviroStation to monitor a data center's environment such as temperature and humidity as well as provide alarms for fire, smoke and unauthorized entry. The EnviroProbe offers a backlight LCD to monitor temperature and humidity for a single enclosure, and it also provides 4 contact closure inputs for monitoring other environmental devices. An EnviroStation integrated with EnviroProbes can monitor data center temperature and a variety of critical equipment through an RS485 with Modbus protocol, and send the data to a central manager via a network. Delta's InsightPower Manager software provides prompt handling of any data centre graphical interface and historical data records for more effective management. This EMS feature provides a more cost effective solution to replace the BMS of small data centers.
Delta's Modulon NH Plus and DPH UPSs are ideal for medium-sized datacenters demanding in efficiency and availability at a lower Total Cost of Ownership (TCO). The NH Plus and DPH are modular UPSs designed to offer high reliability, and the hot swappable module concept brings MTTR close to zero for highest uptime and availability for critical data center servers. The DPH is able to deliver high AC-AC operating efficiency of 95% at 30% light load, and 96% from 50% load ensuring savings in electricity bills and improvements in PUE. The Modulon NH Plus and DPH are scalable and expandable to keep initial investment low and support future business growth.
Delta's InfraSuite datacenter solution is ideal for saving energy, reducing environmental impact and saving costs. For customers, it means less money spent on IT. Delta's Modulon NH Plus, DPH UPSs and Environment Management System (EMS) made the world's leading IT hardware manufacturer solution the most cost effective compared to other players in the market. The modular UPSs enhance uptime and ensure zero MTTR for critical infrastructure and the EMS offers comprehensive monitoring of the data center environment using third party equipment such as smoke detectors, power meters and PACs to ensure safe operation 365 days of the year.
Delta takes pride in its expertise in offering world class data center solution – InfraSuite. The Delta InfraSuite is a green solution that is already adopted by datacenters around the world and has been well received by customers. The successful implementation of the InfraSuite datacenter solutions in KLU is yet another step in strengthening customer recognition of Delta's products and establishing a good foundation of the company's market expansion.