CeBIT 2017
Date:
2017.03.20 - 2017.03.24
Location:
Hannover, Germany
Contact:
E-mail:
dc.et@deltaww.com
Meet Delta's Mission Critical Infrastructure Solutions Team at D83, Hall 12 at CeBIT 2017
Delta's Mission Critical Infrastructure Solutions (MCIS) team cordially invites you to join us at CeBIT 2017 in Hannover, Germany from March 20th to 24th.
In 2017, under the theme of "We have all the solutions", Delta has again strengthened its global market position as a leading brand in datacenter infrastructure with a complete offering of AC and DC power, cooling systems, DCIM and datacenters—from single rack and modular to containerized solutions. At this year's CeBIT, Delta will showcase:
An all-in-one containerized datacenter featuring a converged power solution with both AC and DC power supplies.
The newly-developed large AC backup power solution DPS series UPS from 600kVA up to 1.2MVA offering the highest power density.
A live demo of comprehensive datacenter infrastructure management (DCIM) as one platform integrating IT and facility equipment for colocation applications.
You are welcome to visit and see how Delta MCIS datacenter solutions can be applied in different industries and can provide benefits to customers worldwide. Delta's stand will be located at D83, Hall 12 during CeBIT 2017 in Hannover, Germany from March 20th to 24th.
During the CeBIT show, we will have an in-depth DCIM panel discussion at Delta's booth. Delta is inviting the renowned datacenter consultant Monika Grass of Germany to be the moderator and lead discussions on DCIM topics. You won't want to miss this exciting DCIM workshop! We look forward to your visiting our booth at CeBIT 2017.
DCIM Panel Discussion Schedule
Date: March 21st & 22nd (Tuesday & Wednesday)
Time: 10:45 - 11:45
Location: Delta booth DCIM area
Moderator: Monika Grass

Click here to register for a free CeBIT 2017 entrance e-ticket.
Delta will be at Stand D83, Hall 12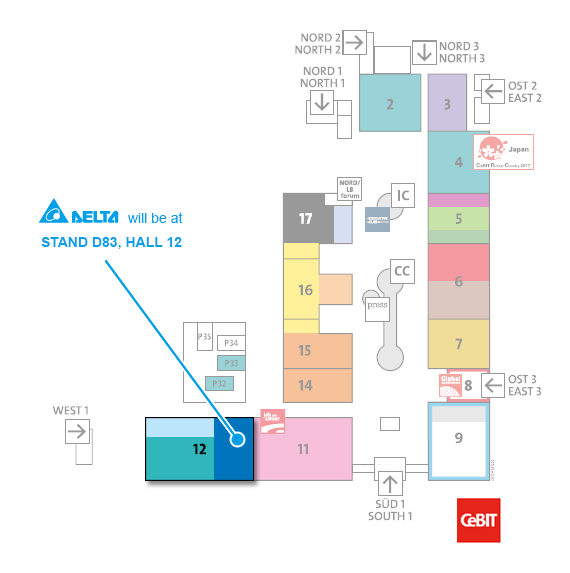 Recent Events
2017.03.20 - 2017.03.24
CeBIT 2017
Hannover, Germany