2012.06.15
Delta MCIS showcased Agilon UPS at COMPUTEX TAIPEI 2012.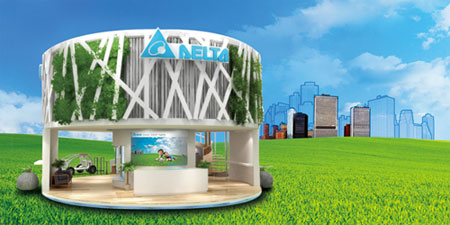 The world's top ICT trade show COMPUTEX TAIPEI unfolded this year from June 5th to June 9th. This event gathered trend setting ICT giants in hardware production, software development, R&D, innovation, applications and service integration to cover the complete spectrum of business opportunities.
Delta Electronics Group debuted a full spectrum of its latest consumer applications and services centered on the theme of "Smart Green Life" at COMPUTEX TAIPEI 2012. Delta showcased product applications using an augmented reality experience to demonstrate efficient energy-saving solutions for individuals, families and businesses.
Delta's booth took on a tree house design using green architecture to express the desire of humans to return to a greener lifestyle. Energy-saving products from Delta's "Smart Green Life" section are featured in a residential scenario with living room, kitchen, study and work studio. Displaying the augmented reality experience, Delta Mission Critical Infrastructure Solutions (MCIS) Business Unit showcased Agilon UPS (Uninterruptible Power Supply) family in the work studio at COMPUTEX TAIPEI.
The Agilon family are single phase UPS systems for power rating requirement under
1kVA, that can support PC products, peripherals and small POS systems. The word Agilon (Agile + on), denotes agility and precision, which describe the features of this UPS system – small yet efficient; they are the perfect power management solution for residential users, SOHO workers or small enterprises. When there's a situation of abnormal power outage or unstable voltage, it provides backup power, allowing computers, gaming devices or other equipment to continue operating normally without being interrupted. It can also suppress damages that may arise due to power surges and serves as the comprehensive power protection.
The most competitive companies in the world choose Delta UPS, because our products are designed to enhance competitiveness. In the highly competitive business environment, Delta MCIS positions itself as "The power behind competitiveness" and will continue to support the companies that strive to outperform the competition.
The important customers, distributors, and system integrators from Asia, Europe, etc visited Delta booth and showed the high interest of Delta UPS solutions. The COMPUTEX TAIPEI 2012 ended with success.