2016.11.15
Delta Conducted Seminar on Power Management Approach for Critical Applications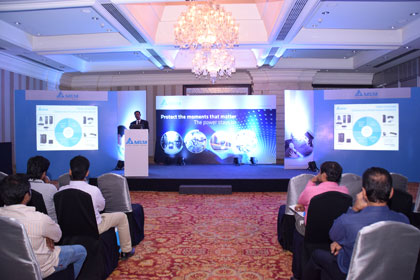 World's leading Power management company Delta hosted a Seminar at Hotel Leela Palace, Chennai on 11th Nov 2016 on
Power Management Approach for Mission Critical Applications
. The Seminar highlighted how energy efficiency can be improved & save cost for the industry owners. Also, showcased Delta's industry leading offerings that help improve energy efficiency, increase uptime in critical operations and protect people, property and the environment.

The Seminar was a platform initiated by Delta to reach out to customers, influencers and end-users and enable effective market interactions across major regions and key industry segments. More than 90 IT Heads/ Partners/ CEO/ Consultants from IT, Datacenter, Constructions, and Manufacturing industries participated in the event.
Delta displayed Active Power Filter, Modulon HPH 120kW, Modulon DPH 150kW, Power Distribution Cabinet, and EMS 3000 online version. Aiming to support customers in building green datacenters that save more than 25% energy, Delta InfraSuite Data Center Infrastructure Solutions feature modularity, manageability, agility, efficiency and reliability. Its four modules include power systems, racks and accessories, precision cooling, and environment management systems that offer integrated services for datacenter infrastructure.
Delta Active Power Filter is highly reliable power quality product that is based on the global R&D and large-scale production of Delta Group. The PQC Series is widely used in process industries such as cement, metal, chemicals and pharmaceuticals, as well as industries such as textiles, automobiles, health care, petrochemicals, datacenters, and more.
For the manufacturing and IT/ Data Center industries, achieving a balance between maximum functionality and cost optimization is essential. Delta's innovative technologies from UPS and Data Center Solutions help the industry owners to significantly reduce total cost of ownership."