2013.03.22
Delta unveils the InfraSuite Data Center Solution – 4-Modules Videos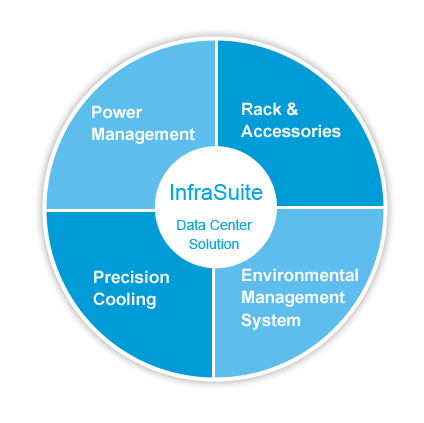 Delta MCIS has produced the InfraSuite Data Center Solution – 4-Modules videos to introduce its fully integrated and scalable data center infrastructure solutions for mission critical data center operations. These videos fully demonstrate the features and advantages of Delta's InfraSuite solutions. The 4 modules include Power Management, Rack and Accessories, Precision Cooling, and Environment Management System.
Power Management
The Power Management system is composed of scalable Uninterruptible Power Supplies (UPS), Power Distribution Cabinets (PDC), and Power Distribution Units (PDU). The combination works in unison to optimize a data center's power distribution capacity and to provide constant protection for mission critical loads. Delta's high performance UPSs come in various capacities based on customer requirements. Output power factors achieve 0.9 to 1 and harmonic distortion ranges from (iTHD) < 3% to 5%. The scalable modular design of the Power Management system ensures continuous and cost-effective data center expansion to meet customer needs. ( Product introduction > )
Rack and Accessories
Simplicity and optimal space usage are the key deliverables derived from the modular 19-inch server rack, 23-inch network equipment rack, and a full range of rack accessories. With its features of easy assembly, heavy load capacity, and smart ventilation design, Delta InfraSuite's Rack and Accessories makes it possible to set up efficient, fully functioned and high-density data centers. ( Product introduction > )
Precision Cooling
Delta's precision cooling solution for data centers boasts of high cooling efficiency and is capable of achieving precise temperature and humidity control inside a data center. Delta's professional cooling solution uses a complete precision cooling product portfolio that includes: the RowCool Series that can be installed right next to a heat source to eliminate hot spots, the RoomCool Series that comes in download and downflow configurations, and ADU (Air Distribution Unit) that supports downflow RoomCool to effectively remove heat from a hot spot. Aside from ensuring that data centers employ precise temperature and humidity control, Precision Cooling also ensures high energy efficiency, which benefits clients with savings on maintenance and operational costs.
Environment Management System
Delta's environment management system is the ideal safeguard for data center operations. Data center environments, security and energy consumption status is easily reported to IT managers in real time from anywhere in the world, ensuring optimal data center operations, and ultimately, the protection of an enterprise's overall competitiveness in today's fast-paced world. ( Product introduction > )
Together the 4 modules offer a fully integrated, scalable modular system for building a hardware and software environment that ensures continuity for mission critical data center operations. Delta MCIS allows our customers to minimize their initial capital and operating expenses while ensuring their maximum competitive advantage.