2013.11.15
Delta Amplon IN Series wins 2013 most innovative UPS product award for Delta MCIS India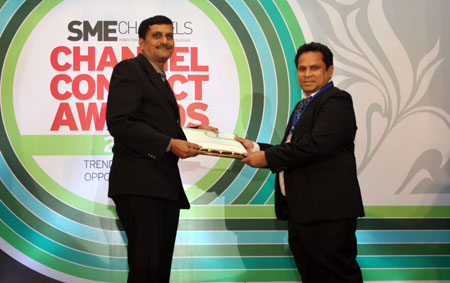 New Delhi, India
The Delta Amplon IN 1-3kVA UPS has won the SME Channel award for most innovative UPS. The SME Channel presented the award to Delta MCIS India recognizing the Delta Amplon IN Series as one of the world's most innovative products of 2013. The Amplon IN 1-3kVA is the only product available in the market with an inbuilt isolation transformer. The series features True Online Double-Conversion UPS in tower configuration with a built-in galvanic isolation transformer. Galvanic isolation is beneficial for installations at sites with poor power conditions, and is recommended for all critical IT applications.
The SME Channel focuses on IT & Channel news and has a circulation of more than 55,000 across India. The award is a well-known, prestigious award for the IT Channel segment and it identifies companies in India for outstanding commitments to innovation and energy efficiency. The SME Channel award night was held in New Delhi on 13 November, 2013. All leading IT companies such as IBM, HP, Dell, Panasonic and channel partners from across India were present at the event.
The award from the SME Channel helps Delta gain recognition from the IT Channels. "The award from the SME Channel demonstrates the distinctive capability of Delta Power Solutions to adapt to a dynamic business environment and deliver innovative and energy efficient products," said Mr. Suhas Joshi, Director of Delta Power Solutions (India) Pvt. Ltd. As a power management company, Delta emphasizes innovation in meeting customer needs and addressing the growing demand for power in today's world.