2022.09.15
Data Localization: How Data Centers Will Play a Pivotal Role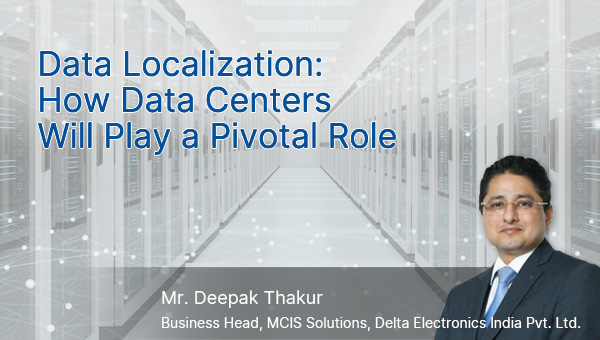 In the last decade, no industry has been untouched by the rapid pace of technological advancements. The need and the demand for information have never been greater than it is today, with almost everyone owning a smartphone and the internet becoming a daily necessity for everyone. For many businesses, it is itself an inception point.
Our society is digitising, and so is the business community. As we shift to a digital economy, we have and will increasingly witness an explosion of data which will mean increased storage capacities, as the data generated must live somewhere and flow globally. Hence it wouldn't be wrong to assume that the engines of the industrial world are data centers. Data is becoming increasingly necessary as technological advancements alter how firms conduct business. No matter the size, every company now has a data center. Since data centers impact how businesses operate, they are an ever-growing aspect of modern businesses and a very crucial component.
The rise of data centers in India
As data consumption and cloud use skyrocketed, so did the necessity for data centers. As more recent digital tools bring efficiency and speed while completely altering corporate processes and the end-user experience, the transition to a digitally driven economy is increasingly picking up speed. Data centers are driving the technological revolution that we are witnessing worldwide. They form the foundation of all contemporary digital tools and cloud-based services, ensuring they are always available and dependable for consumers.
As transactions become more digital and cross geographic boundaries, India is becoming more aware of data protection and sovereignty. As evidenced by the government's Digital India framework and the proposed Data Protection Bill 2019, which called for the first data localization structure for the whole economy in India, the country's regulatory climate has been favorable. The bill now withdrawn will soon be replaced by a more comprehensive framework for increased digital security due to a massive amount of data.
As the demand for digital services and technologies like 5G and IOT increases, the need for data centers will continue to rise. Demand for the data center is being pushed by many up-and-coming industries such as edtech, gaming, virtual media and entertainment, and ecommerce. These businesses heavily depend on the cloud, generally work on on-demand business models, and need consistent data support.
The scenario is the same for other sectors like manufacturing, banking and financial services, healthcare, consumer retail, and telecom. Additionally, several other government services are digitising for better transparency, efficiency, and timeliness.
Relevance of Data Centers in Digital India vision
India is widely recognised as one of the world's youngest and most tech-savvy populations. There has been a significant rise in digital transactions, IoT, and smart devices, especially after the pandemic. This surge in usage has directly impacted the demand for data centers in the country.
Like organisations, the government also produces comprehensive information that requires data centers. As the stored information contains citizens' private data, the government has to guarantee that its data centers perform at the most elevated levels. Whether massive or small, the state and the national government gradually manage many e-governance functions that further call for integrated data centers.
We are already witnessing this transformation unfolding steadily in the country as many state governments are beginning to realise the importance of data centers and their value to citizens.
As a crucial step toward supplying cloud services, the central and state governments must consider virtualizing vital applications that deliver strategic benefits. Condensing storage space is essential because it not only reduces physical footprint but also lowers costs while still providing the high levels of security, reliability, performance, and operational efficiency that these applications demand. Additionally, it will contribute to improving government system efficiency and reducing the environmental effect.
The market has a lot of smart solutions to offer at the moment. In conjunction with the scenario mentioned above, innovative solutions can assist governments in managing and preserving data without the need to construct additional data center space. A smart solution is one enclosed system that comes complete with all other solutions like precision cooling, UPSs, power management, monitoring, and control technologies.
To prepare for the future, companies need to equip themselves with the help of data centers. India needs data centers as part of its digital infrastructure if it is to grow its economy to $5 trillion by 2025. The introduction of 5G will allow for substantially higher bandwidth, larger connection densities, and lower latency. In a 5G world, edge networks and broad IoT usage are possible and will produce enormous volumes of data that call for expanded data centre capabilities and other digital tools.
| | | |
| --- | --- | --- |
| | | The interview was published in Digital Terminal. |