2021.07.20
Delta's Ultron HPH Gen. 2 20-40kVA UPS features reliable protection, cost-effective power with a compact footprint, and high-level performance that supports green data centers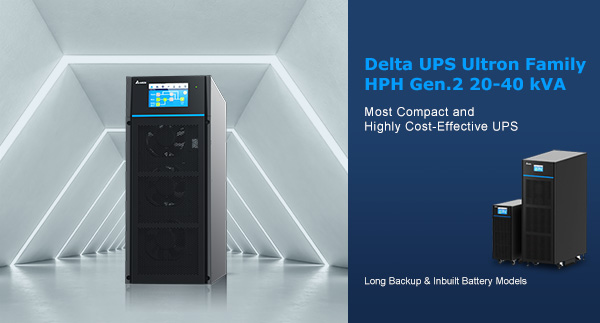 The HPH Series provides high AC-AC efficiency of over 96% with an ECO mode to 99% resulting in marked energy cost savings. Its slim design offers an extra compact footprint (40kW / 0.15m²) for added space savings. The user-friendly 5" color touch screen enables easy local UPS management to monitor UPS status at a glance. The
Ultron HPH series
is the ideal solution for various small and medium-sized data centers and critical power backups.
Quicker ROI
The Ultron HPH Series provides a highly efficient UPS in its class with over 96% efficiency. It helps reduce energy consumption and operating expenses so users can meet requirements for sustainability targets without compromising availability. In addition, the HPH Series provides a wider battery configuration choice (30-46pcs) to optimize on battery installation cost.

Easy Deployment and Maintenance with Compact Design
Advanced technology and thermal treatment achieves the leading power density without sacrificing output power. It promises a unity output factor at 40 degrees, while offering the smallest footprint. The all manual protection device is built into a single cabinet.

High Manageability and Flexibility
The Ultron HPH Series comes with a user-friendly 5" color touch screen that enables easy local UPS management. In addition, it provides a build-in 15A charger for a long backup solution without additional cost. It also provides a key component replacement warning countdown to remind users of component expiration dates. For customers that install the UPS in harsh environments, the HPH Series also provides an optional IP42 kit.
The Ultron HPH Gen 1 Series has won numerous industry awards worldwide since its release in 2013.The Ultron HPH Gen 2 Series continues in this advanced design approach by providing improved energy efficiency of over 96%, and combining reliable protection and cost-effective power with a compact footprint and high performance.