2009.09.18
Cost-cutting needs in sight?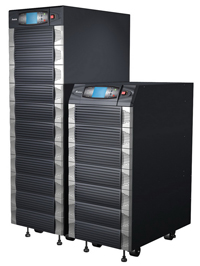 Delta has announced the completely redesigned, next-generation NH Plus series uninterruptible power supply (UPS). The new series has been designed with efficiency in mind, resulting in significant electricity savings for its users. The unique modular structure provides easy inventory management and minimized mean time to repair (MTTR). The NH Plus series offers a remarkably low total cost of ownership in terms of both capital and operational expenditure.

Cost cuts with efficiency and modularity

The NH Plus series maintains an efficiency of 94% even under common loading conditions - something with which most products currently on the market cannot compete. Depending on local energy costs, the NH Plus series can save customers approximately USD 2,500 annually in electricity bills.

A further cost-reducing feature of the NH Plus series is its hot-swappable modular structure. Each power module delivers a power density of 20 kVA in a 3U chassis. The total power options include 20, 40, 60, 80, 100 and 120 kVA in two cabinet types. This unique modular structure allows IT managers to protect their data centre facilities from power fluctuations in a flexible and scalable way. Other advantages include lower initial acquisition costs as well as minimized MTTR and system downtime.

In addition, the NH Plus series offers a maximum input current total harmonic distortion (ITHD) of less than 3%, meeting the highest standards in the industry even without adding extra filters. The low ITHD ratio reduces not only capital investment needs, but also the cost of installing cabling and upstream circuitry.

"Delta has designed the NH Plus series UPS to assist customers in reducing waste and conserving energy, as well as in reducing the cost of running their business," says Dr. Charles Tsai, UPS Business Unit General Manager, Delta Electronics.

The new NH Plus series is available in Q3-2009. For more information, contact a Delta representative.