Famille UPS de Delta
Famille Amplon
1kVA ou plus
UPS à une phase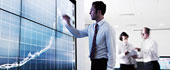 Famille Ultron
10kVA ou plus
UPS en ligne à trois phases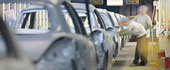 Famille Modulon
20kVA ou plus
UPS modulaire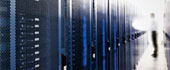 UPS de Delta - Famille Ultron
10kVA ou plus, UPS en ligne triphasé
Dans la gamme des produits UPS de Delta, la famille Ultron comprend des systèmes UPS à trois phases pour les exigences de courant de plus de 10kVA, qui supportent les applications essentielles comme les équipements industriels, les centres de données, les systèmes de contrôle du trafic, les stations de radiodiffusion et les réseaux essentiels. Le mot Ultron (Ultra + on), signifie des performances ultimes, ce qui décrit bien les caractéristiques de ce système UPS - une stabilité exceptionnelle et l'assurance pour les applications essentielles.
The Ultron EH series is a true online double-conversion 3p-1p UPS which provides reliable power protection for IT rooms, SMBs, telecommunications, banking, medical facilities and industry. With an advanced DSP controller, it offers rapid computation...
Plus
L'Ultron HPH est un véritable UPS double-conversion en ligne. Il combine le mieux qui soit une puissance maximale disponible, une efficacité énergétique hors-norme et une performance de puissance supérieure pour les centres de données de petite...
Plus

La série Ultron NT comprend des UPS à trois phases avec des classifications I/P-O/P personnalisées pour diverses applications. Avec la redondance parallèle N+X ou l'extension, ils ont une haute disponibilité et fiabilité pour vos appareils...
Plus

Le modèle Ultron DPS de Delta est un UPS triphasé double-conversion et rectificateur IGBT. Avec l'onduleur TLI (onduleur triple niveau) ultra-moderne et la topologie PFC triphasée (correction de facteur de puissance), le modèle Ultron DPS présente...
Plus