2016.12.20
Delta UPS wins award from Funkschau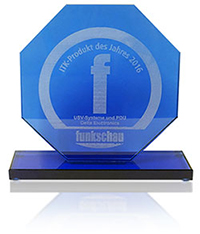 Delta has won the 3rd place award for ICT Product of the Year from Funkschau, the trade journal for IT and telecommunications in Germany
Modular UPS DPH 75kW wins 3rd place award
The DPH 75 kW UPS from Delta's Modulon product family was voted into 3rd place by Funkschau readers. The Modulon devices use a modular, three-phase architecture, and cover an energy range from 20 kW up to 200 kW. This makes them suitable for a wide range of requirements in many industry sectors, such as shipping and transportation, telecommunications, banks, the health sector and wherever data center security is an issue. The modularity of the UPS is a decisive advantage. Customers can install power supplies that match their initial needs, and the solution is easy to scale if demand increases in future. This achieves an optimal system design and reduces the total cost of ownership (TCO).
To ensure ongoing operations in the data center, you must take into account an increasing data volume and rising energy costs. The Modulon DPH UPS is designed so that it meets high requirements for efficiency, availability and adaptability while supplying required power at a low TCO.
The DPH 75 kW UPS is an all-in-one device, that includes power modules, a battery, and output distribution in a single 19-inch cabinet. It is possible to integrate up to 6 output distribution modules and equip them with 16A or 32A fuses.