2017.02.23
Delta displays the full range of its portfolio at Middle East Electricity 2017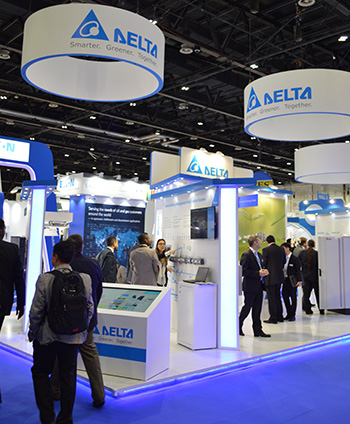 Dubai is well known not only for its famous artificial palm-shaped island and tall buildings such as Marina 101, the Princess Tower, and, of course, the Burj Khalifa. It also hosts Middle East Electricity (MEE), the largest international trade event for the power industry. MEE covers the generation, transmission, and distribution of electricity; the renewable and nuclear energy sectors; and the lighting industry. Every year, the event attracts more than 1,500 international exhibitors and over 21,000 senior-level industry decision makers from 130 countries across the world.
MEE 2017 focused on industrial automation and the following question: How can we make the world greener? Of course, all the big global players including Delta Electronics were there. And the company's exhibition differed from prior years. Before, Delta had exhibited only a selection of its industrial automation products and some power supplies. But the event team was often asked, "who is Delta exactly?" This despite the fact that the company has been on the market for over 40 years. Delta was perceived as nothing more than a power supply manufacturer. But the company is much more than that, with many different business units offering a wide range of products. Therefore, at this year's MEE, Delta displayed the full range of its portfolio, sending a clear message — Delta Electronics is not what you think! Delta is a real heavyweight offering products and solutions to achieve significant energy savings in a wide range of industrial and commercial applications. "Our solutions will make the world smarter, greener, together — as stated in our company's claim", explains Motaz Al Ma'ani, General Manager for Middle East and Africa at Delta Electronics. The company's look at MEE 2017 matches the recent shift in strategy — away from a business-unit-driven manufacturer of products to a provider of comprehensive solutions.
Accordingly, Delta designed its MEE booth by carefully handpicking products to be showcased and by highlighting the big picture. "We provide the inverters that leverage energy from the sun. They can be repurposed for many different industrial automation applications. For everything from solar power, building automation, and LED lighting to HVAC. We showed our UPS Systems and Telecom Power Solutions, and from there we went to industrial automation," said Monique Appeldoorn, Marketing & Communication, Industrial Automation Business Group, at Delta Electronics.
The major highlights at Delta's booth included:
Solar PV inverters: By leveraging its core competence in high-efficiency power electronics, Delta offers an extensive line of highly efficient and reliable solar PV string inverters, currently supporting utility-scale, commercial, and residential installations in the Middle East and Africa, such as the 4.5MW Omburu Solar PV Park, one of the largest PV power plants in Namibia.

LED lighting: A broad range of industrial and commercial applications can achieve significant energy savings by implementing Delta's high-efficiency LED lighting solutions.

Building automation solutions: Delta's BMCS, an all-in-one platform that enables intelligent, eco-friendly, highly efficient, and thorough management of buildings and their respective underlying sub-systems, including HVAC (heating, ventilation, and air conditioning), lighting, security, power generation, and more.

Telecom power solutions: The DPR 3000E-48 series telecom rectifiers featuring class-leading efficiencies of up to 98% and the outdoor LENI series of systems featuring hybrid cooling options and compatibility with renewable energy sources are a testament to Delta's leadership in energy savings for the telecommunications industry. Visitors could view Delta's track record in implementing energy-efficient telecom power infrastructures beyond Europe and throughout the Middle East and Africa.

UPS systems: Delta has also built a remarkable track record of supporting data centers and other applications in the Middle East and Africa with its UPS technology. Success stories include a major airline in Turkey and a leading telecom carrier in Saudi Arabia. The showcase includes the modular UPS Modulon DPH 75kW series and the mono-block UPS Ultron HPH series.

Industrial automation solutions: For customers interested in the smart manufacturing concept of implementing real-time monitoring and remote control of their own production facilities, Delta's Smart Factory and Cloud Solution is a profoundly effective option. Critical information from various layers of the production process is retrieved from PLCs and other industrial devices by Delta's DX-2100 series Industrial 3G Cloud Routers and sent to the DIACloud internet cloud system, allowing for customer-focused production and enhanced productivity.
Eye-catcher: the Delta booth
"The DIACloud and the water pump solutions did attract quite a bit of attention," said Appeldoorn, referring to the live demo showcase of the company's Water Management solution which, for example, can use Delta's CFP2000 series AC Motor Drive, an IP55-rated waterproof drive specifically designed to bring the highest standards of reliability and efficiency for pumps and fans in HVAC applications.
Most visitors came to the booth because they were interested in how the booth was set up. The design was so exciting that a lot of people stopped by just to watch the videos and the demos. "Many visitors that did know us were amazed by how much Delta has to offer. "It was high time that we spread the message of who we really are— and that is much more than just a power supply manufacturer," said Appeldoorn.
Becoming greener is one of the biggest trends in the region. Dubai is heavily focused on achieving a smaller carbon footprint. Delta is an expert at assisting with the reuse and regeneration of energy and making use of the sun and solar energy. With Delta, companies can do business in a greener manner and also reduce capex and opex. Especially in the Middle East and Africa, there is much to be done in terms of business development as the region is looking for process automation capabilities. "We are a very large group – we are the global leader in solar and power solutions. Comprehensive research and development process is very important to us; we have produced advanced technologies that provide smarter, greener, and cost-efficient energy solutions. These solutions enable our customers, with whom we maintain long and fruitful partnerships, increase productivity, lower costs, and dramatically reduce their carbon footprint for a more sustainable world", said Al Ma'ani.
"We had a very, very good exhibition— for three full days, the booth was busy the entire time. We had many excellent conversations. There was a lot of interest from many different types of people who were interested in building automation. LED lighting and solar inverters however also attracted quite a few visitors, as did industrial automation. There was such a sincere interest in these types of products, and what we presented clearly spoke to that. So, you could say, we were fully meeting the market's demands." Al Ma'ani concluded: "Next year, we will certainly be back!"