Green Datacenter
Project Background:
Delta's corporate datacenter is an eco-friendly modular datacenter with a gold level average PUE < 1.43. This case study demonstrates how we adopt highly efficient and energy saving solutions for power, cooling, rack and DCIM to achieve the PUE < 1.43.

Overview:
IT Load: 120kW
Reliability Level: Tier 2, Tier 3
Annual Avg. PUE≦1.43
No. of Racks & Avg. Power Density: 63 racks, 1.6 kW/Rack
Datacenter & Infrastructure Area: 200m2

Layout Planning:
There are 4 islands with 2 separate areas:
Zone A/B: cold aisle containment with RowCool and a free cooling solution for effective heat removal in a datacenter
Zone C/D: hot aisle containment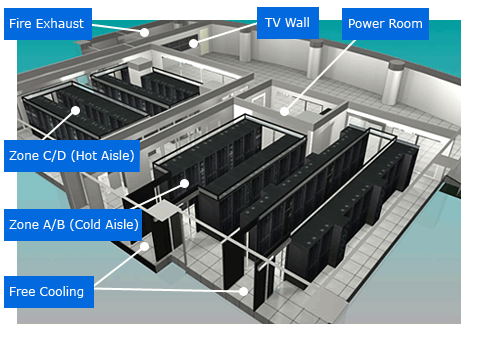 System Highlights:
To construct an eco-friendly datacenter, each system would include power, cooling, rack and environment management and should consider the high efficiency, energy savings and continuous improvement by DCIM. It also adopts free cooling utilizing cool outdoor air.
Power Management
• UPS Efficiency 96%
• Modular, scalable
• Hot-swappable, short MTTR
• Dual loop, highly reliable
• Smart remote monitoring
• Less voltage transfer

Precision Cooling
• Chilled water type for higher efficiency
• Variable fan speed control
• Modular architecture
• Dual loop for high reliability

Free Cooling
• Utilizes outdoor cold air when weather conditions apply
• Applies both water side and air side

Rack & Accessories
• High perforation >70%
• Cable trough and blank panel optimizes air flow management and cooling efficiency

Environment Management
• Real-time power consumption monitoring for PUE improvement
• Server-level power capping reduces server heat generation