Russian Data Center Operator Linxdatacenter Opts for Delta Modulon DPH Series 500 kVA UPS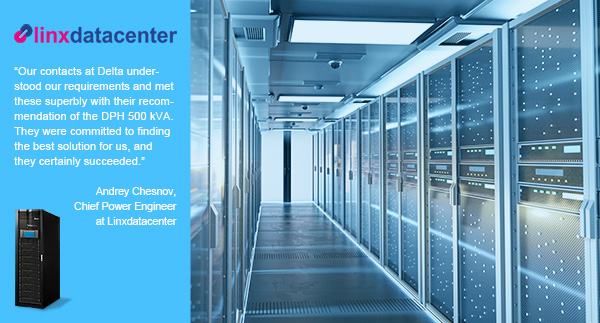 Powerful Delta UPS protects the modern data center in St. Petersburg
The international cloud and colocation service provider Linxdatacenter needed to upgrade its data center in St. Petersburg. As voltage variations and power failures often occur in the region, maximum availability and reliability are key. Linxdatacenter required new, high-performance UPS units to ensure secure 24/7 operation.
As well as meeting traditional requirements, such as high power performance and reliability to keep the power flowing to servers at all times, the new UPS units needed to be compatible with the existing data center systems, easy to integrate into the existing data center landscape, and suitable for modular expansion. Cost also played a role, and after the data center provider had considered many options in 2020 it settled on the excellent value offered by Delta.
Four Delta Modulon DPH series 500 kVA UPS systems were installed. These new modular UPS units offer the world's leading power density per rack and are particularly well suited to mission critical applications in large data centers.
Their modular design allows the UPS to manage redundancy of the power modules and offer flexible scalability options for additional capacity. As an added benefit, the high power density means it is no longer necessary to build in spare capacity for future growth, since the systems can be expanded as required. As a result, the DPH 500 kVA systems are making a direct contribution to cost savings at the data center. It also has an efficiency up to 96.5% in normal mode and 99% in ECO mode, which significantly reduces energy costs.
Low rack height requirements in combination with the high power density ensure the DPH 500 kVA takes up significantly less space. Less space for the power infrastructure means more room for productive equipment such as computer racks, which in turn increase revenue. The compact design of the DPH 500 increases the usable area and requires 50% less space for the same power.
The architecture of this UPS series also allows individual modules to be hot swapped. The devices can be brought online more quickly and service periods are drastically improved in comparison with traditional UPSs. In terms of operating costs, the UPS systems are particularly simple to monitor, manage and maintain.
Linxdatacenter benefits from more than just the technical features and functions of the UPS and the excellent value for money. It also appreciates the expertise, customer service and lead times it gets from Delta, which provides onsite experts from many bases throughout Europe. In this case, the customer knew what it needed, and found a product that met its requirements for high performance, efficiency, a modular design and scalability, and that could also be easily integrated and brought online in the existing data center environment. The Delta UPS units that have been installed in the St. Petersburg data center are already doing their job and enabling future upgrades to be carried out easily and cost-efficiently.
Andrey Chesnov, Chief Power Engineer at Linxdatacenter, is very satisfied with the company's collaboration with Delta: "Our contacts at Delta understood our requirements and met these superbly with their recommendation of the DPH 500 kVA. They were committed to finding the best solution for us, and they certainly succeeded."
Vladislav Solotskiy, UPS Key Account Sales Manager at Delta Russia & CIS, Communication and Information Solutions (CIS) Business Unit, is also happy with the successful project in Russia: "Once again we have demonstrated that everyone wins when they work with Delta on large-scale data center projects. Our customers all benefit from our understanding of the technical requirements, expert advice, reliable high-performance products, excellent customer service, and installation support. In Linxdatacenter we have added an experienced IT service provider to our portfolio of satisfied customers, and we are looking forward to working on further projects together."