Delta Electronics Provides UPS for Technical Systems of the Russian State Academic Maliy Theatre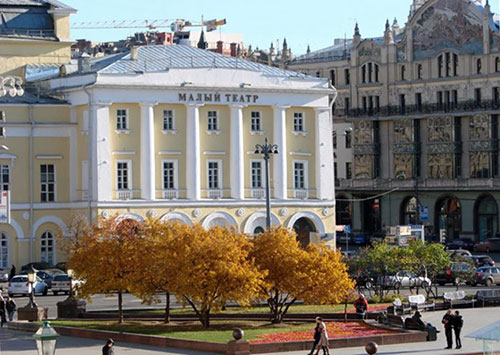 Delta took part in the reconstruction and technical upgrade of one of the oldest theatres in Moscow
Delta Electronics, a leading provider of switching power supplies and UPS solutions, provided its UPSs for the technical systems of the Russian State Academic Maliy Theatre. The project was in cooperation with Delta Electronics' partner, Landata, and the UPS solution was implemented by technicians of Zvukovye Resheniya (Sound Solutions), Ltd.
The State Academic Maliy Theatre is one of the oldest theatres in the country. As the theatre was about to undergo reconstruction, Delta's UPS solutions were chosen to ensure the secure operation of the power supply systems and failsafe sound amplifying systems in the auditorium, as well as the television equipment, service communications, stage broadcasting, and production management systems.
After analyzing the market and comparing different solutions, the choice was made in favor of the systems provided by Delta Electronics. This choice was based on the availability of the necessary technical specifications and excellent power performance for the UPS systems. The solution included one Ultron HPH Series UPS, and one Amplon RT Series UPS with two external battery modules. The HPH Series unit offered unbeatable AC-AC energy efficiency (96%) and N+X redundancy. At the same time, the wide input voltage range allows the UPSs to operate in the harsh environments of unstable power networks. As for the RT Series devices, they are distinguished by a high output power factor (0.9), 1+1 parallel redundancy, and the double-conversion topology, which provides 24/7 full time protection.
The initial startup of the systems was performed by the engineer of the company's authorized service center NTC Landata, CJSC. The engineer had attended the corresponding training course in the Moscow Training Center and had been certified by Delta Electronics to perform the equipment installation and commissioning.
Ilya Galashin, business development specialist at Landata, said: "For this project we chose Delta Electronics UPS solution because their best-in-class equipment has an excellent value / quality ratio. One of Delta's key advantages is the ability to offer effective project support at all implementation stages and high-quality service for the equipment. Clients can always expect to receive support from the service centers without delay."
Using the UPS by Delta Electronics provided the continuity of full protection to the critical equipment in the theatre.