Delta installs infrastructure solutions at the Experimental Demonstration Center of the Russian Digital Enterprise Consortium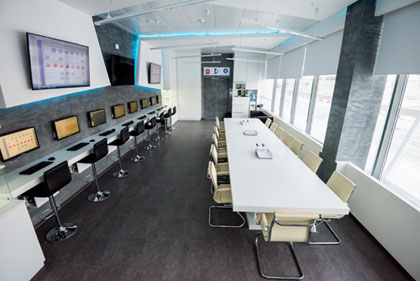 Delta successfully completed a project installing precision cooling and UPS infrastructure solutions in the server room of the Digital Enterprise Consortium Experimental Demonstration Center in Russia.
The experimental demonstration center was established by LANIT-Ural experts in 2015. It is a platform for displaying import-independent solutions and for cooperation with defense companies for testing and pilot projects. The center enables the demonstration and testing of typical information system components with the possibility to remodel the existing IT infrastructure of the customer's enterprise, as well as execute pilot implementation projects.
The project implemented by Delta for the Experimental Demonstration Center was aimed to ensure the smooth operation of the server hardware and demonstration hall equipment, as well as to maintain server cooling. When choosing a supplier, the customer considered several parameters such as the price-quality ratio, while an essential criterion was that Delta was a local excellent enterprise in Russia providing highly reliable solutions.
Delta proposed a comprehensive solution for the Experimental Demonstration Center which included a three-phase Ultron HPH Series UPS, in-row precision cooling RowCool 35kW, 42U modular racks, power distribution units (PDU), and SNMP cards.
The solution was implemented by LANIT-Ural experts, with technical assistance and supervision for installation provided by Delta. The installation was completed within two weeks.
Inna Smolik, Marketing Manager at LANIT-Ural, said: "The Experimental Demonstration Center was designed to work with defense companies. That is why there are such stringent requirements for the server infrastructure of this facility, and in particular, for the quality of precision cooling and UPS. It is necessary to ensure both the highest protection and performance. After all, this will have an indirect effect on the accuracy of the calculations performed. When deciding on a suitable provider, we chose Delta since its solution fully met both our expectations and the requirements of the import substitution policy. Today, Delta equipment has already been installed and is working successfully in the server room of the Center".