Delta Electronics UPS installed at Zenit Arena Stadium in St. Petersburg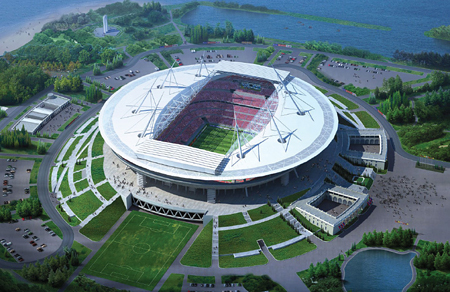 Overview
Delta Electronics succeeded in completing the installation of its UPS
GAIA
and
RT
Series at the Zenit Arena Stadium in St. Petersburg, Russia. The project was implemented in cooperation with Delta's partner, Spectr RS LLC. The scale of the Zenit Arena project allows for providing the venue with all the necessary security systems so that all supply lines, communication centers, and databases are functioning effectively.
The facility hosts dozens of tollgates and management systems, which is why stable and uninterrupted operations of the stadium's information and telecommunication infrastructure is one of the main priorities. Sudden power cuts would yield heavy financial losses. The main goal at the first project stage was to ensure the uninterrupted operation of all communication systems.
The main criteria for choosing the service provider were reliability, competitive prices, and good logistics. The stadium's management considered offers from key UPS market players. The final decision was made in favour of Delta Electronics, because the products offered by the company (single-phase UPS GAIA Series and RT Series with the capacity ranging from 3kVA to 10kVA) were fully compliant with all the required technical specifications, certified and especially optimized for the set objectives. These solutions were capable of providing reliable protection of all the management systems without any threat of data loss.
Project Realisation
As a result, Delta Electronics has become the provider of the equipment that ensures safe functioning of the supply lines, communication centers, and databases at Zenit Arena facility.
Andrey Saveliev, CEO at Spectr RS LLC, said: "Today, Delta Electronics has a solid reputation as a provider of reliable devices that can be used in the most critical sectors. The company's solutions feature innovative compact architecture, high electrical power factor and low input current harmonic distortion. I would like to note that Delta Electronics responded to the request quickly, offered technically and economically sound solutions, and delivered their products on time. All this supports our relationship and builds on our future partnership with this company."
Conclusion
Today, Zenit Arena Stadium has entered the final stage of construction. By the time the construction is completed, it will be one of the most technologically advanced and outstanding sports venues in Europe.