Success stories
Delta provides its customers with a wide range of products and services. We build our operations on long-term relationships and on innovative, energy-efficient solutions.
Find out in the following success stories how we have helped our customers to secure their vital processes.
Huawei in the US
Unbeaten speed of delivery made Delta the partner of choice for Huawei in the US.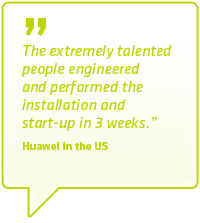 Chinese-based Huawei provides communications network solutions and related services worldwide. The company has an R&D centre in Texas, where Delta Greentech USA has been headquartered since January 2009.

In May 2009 Huawei faced an extremely urgent need to power a customer demonstration area in Richardson, TX. A turnkey installation had to be finished in 2–3 weeks. The schedule being so tight, Huawei was even willing to use used equipment. Delta mobilized its US organization to tackle the challenge simultaneously from several directions.


From start to finish in 3 weeks
"We solved the problem by modifying the Delta HDS7200 and HDS3000 systems," says Eng Taing from sales at Delta. "Three key factors made it possible for us to exceed Huawei's expectations: excellent connections with third-party suppliers, preparedness for fast deliveries, and seamless in-house cooperation," he continues.

Delta's R&D Director Barry Blair and his team of design and system engineers worked in close collaboration with the customer. "Talented engineering staff and teamwork with Huawei made the almost impossible possible," Mr. Blair says.

"Obviously, this is not a normal implementation plan for a large DC power plant. In this case, a good stock of products and excellent connections for procuring ancillary equipment such as batteries, battery stands and cabling made Delta our partner of choice," says Mr. Lester Romero, Manager at Huawei.

"The extremely talented people at Delta engineered and performed the installation and start-up within the required time frame – 3 weeks!" Romero continues. "The Delta Greentech USA team demonstrated its capability and is now a supplier to Huawei in US," says Mr. Romero.


Feedback & Enquiries
TPS GLOBAL CONTACT
| | |
| --- | --- |
| China | Africa |
| Southeast Asia | Europe and Turkey |
| India | Middle East |
| North America | Russia and CIS |
| South America | |