2013.04.02
Delta Group Advances Telecom Power Solutions with Launch of New Rectifier with the Industry's Highest Efficiency of up to 97.2% and Low Noise Emission Outdoor Cabinet LENI
Amsterdam, April 2, 2013 - Delta Group, a global leader in power and thermal management solutions, has just launched its new telecom rectifier with the industry's highest efficiency of up to 97.2%, a low noise emission outdoor cabinet LENI, and a controller ORION. Three new products will advance its telecom power solutions for operators to reduce its OPEX and will be revealed at Delta's booth (
Stand A49, Hall 11
) at the upcoming Hannover Messe 2013 show from April 8th to 12th in Germany among Delta's latest developments in energy-efficient solutions.
The Delta LENI outdoor cabinet offers an innovative, low acoustic noise emission design and flexible architecture for telecom applications. With superior design of air flow and smart fan speed control mechanism, the air ventilated LENI cabinet can significantly reduces the acoustic noise of 7 dB(A) compared to traditional cabinet, and provide as low as 35dB(A) in operation that suitable to install close to residential area or critical environment.
Delta's new telecom rectifier DPR 2900 EnergE provides the industry's highest efficiency of up to 97.2%. The single phase, hot pluggable fan cooled rectifier provides outstanding power density of 36.5W/in³. Integrated with the high efficiency rectifier DPR 2900 EnergE, Delta offers ideal energy saving solutions for network base stations, wireless applications, fixed line applications and data communications.
Delta's new pluggable controller ORION integrates the most advanced, powerful functions for telecom application. The controller's simplified user interface - a new LCD menu, web page structure, and intuitive visual look offers easy operation interface for users. The controller hardware is designed with a pluggable concept, making it easy to maintain or replace the controller unit. With iOS based OrionMonitor application software, customer can easily monitors and get power system status through convenient handheld device.
LENI - Low Noise Emission Outdoor Cabinet
Reduced audible noise level, new innovative cooling system based on air ventilation
Thermal insulation 2 cm (XPS extruded polystyrene) and IP 55 protection class
Multi-layer design, aluminium or steel versions; flexible and modular inside structure
Space for 150 – 190Ah batteries, dimensions (body) – H1800 x W700 x D800 mm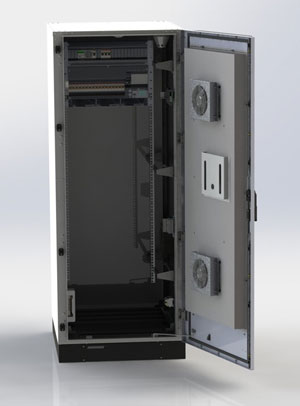 DPR 2900 EnergE DC Power Rectifier  ( Product introduction > )
OPEX & energy saving – leading efficiency up to 97.2%
Space saving – world's leading power density 36.5 W/in³
Compact dimension (H x W x D): 41(1U) x 125.5 x 269.9mm
Easy retrofit to existing DPR 2700 Series installations
UL/cUL, TUV/CE, RoHS compliant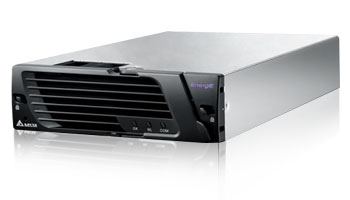 ORION - Pluggable Controller  ( Product introduction > )
Advanced battery management, supervision and testing methods to maximize battery life
Integrated PLC (Programmable Logic Controller) functions to enhance flexibility and monitoring and controlling site infrastructure
Advanced remote monitoring through LAN or modem using HTTP, SNMP or Modbus protocol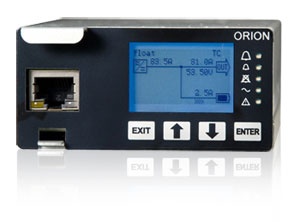 Please find detailed information about Delta's telecom power systems at www.deltapowersolutions.com.
---
About Delta Group
Delta Group, founded in 1971, is the global leader in power and thermal management solutions. Our mission statement, "To provide innovative, clean and energy-efficient solutions for a better tomorrow," focuses our role in addressing key environmental issues such as global climate change. As an energy-saving solutions provider, Delta's businesses encompass power electronics, energy management, and smart green life. Delta has sales offices worldwide and manufacturing facilities in Taiwan, China, USA, Europe, Thailand, Japan, India, Mexico, and Brazil.
Throughout Delta Group's history we have received many global awards and recognition for our business, technology, and corporate social responsibility. In 2012 Delta was selected for two of the prestigious Dow Jones Sustainability Indexes—the DJSI World Index and the DJSI Asia/ Pacific Index—for the 2nd consecutive year. Delta was also ranked first among the 29 leading companies in the Electronic Equipment sector and named as "Sector Leader" for the first time.
For detailed information on Delta Group, please visit: www.deltaww.com .