2011.03.01
RenE Test Hybrid Site in Bern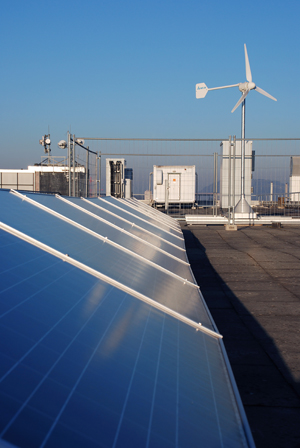 A test hybrid system has been installed on the roof of Delta's office in Bern, Switzerland. The system consists of a high-efficiency rectifier system, a 4.6 kW photovoltaic array (twenty 230 W modules from DelSolar), solar chargers, a 380 Ah battery and a 1 kW wind turbine from Delta. The system can be used in connection with customer visits, trainings and R&D activities. Instead of making regular maintenance trips to remote sites, it is now possible to secure a steady energy supply by harnessing the natural elements. RenE secures power supply for telecom services in areas where the mains power is unreliable or unavailable. In addition to being an environmentally friendly solution, RenE also creates direct and indirect cost savings. The solution can reduce electricity bills by up to 100%, depending on degree of renewable energy sources used.
"With RenE, our telecom customers can go all green by using only renewable energy sources, whether in the heart of the city or in the remotest areas of the globe. When compared to more expensive traditional energy sources, renewable energy sources alone or in a hybrid solution can reduce the payback time from 7 to 2 years, depending on the site design," says Krzysztof Puczko, Product Manager, RenE Hybrid Power Systems.
More information about RenE and SolutionE.