2011.04.28
New OutD V Series!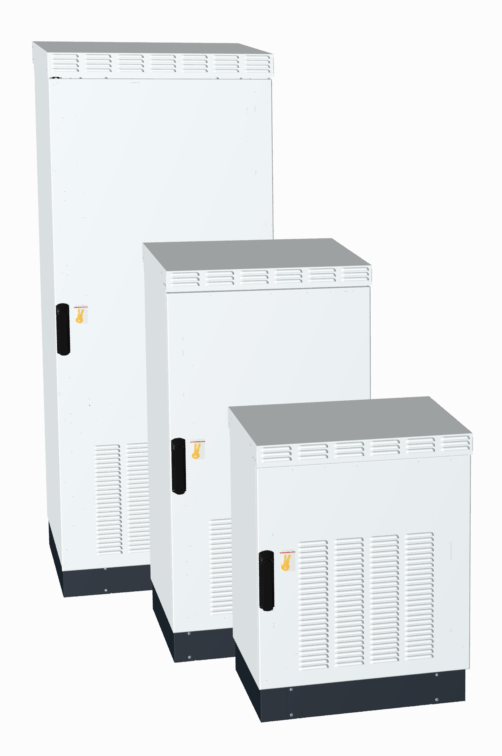 Delta has launched its new OutD V ("value") Series, which has been developed using a design-to-cost concept. The cabinets come in three different dimensions (height of 700, 1200 and 1800 mm) and feature single or double steel sheet walls. Delta offers standard OutD cabinets in four different dimensions (height of 1200, 1500, 1800 and 2000 mm). The standard cabinets have single or double aluminum sheet walls.
Outdoor solutions
Delta's outdoor power systems are especially designed for demanding outdoor environments. The stable construction is based on a single- or double-wall metal design, which provides robustness for outdoor applications, as well as important protection against the effects of extreme climate conditions (e.g. rain, sun exposure, dust, extreme temperatures, humidity, snow and wind). Our total outdoor systems with integrated power and telecom equipment are very compact solutions, and their modular design allows flexible adaptation to different customer requirements and environments.

System design
Delta's outdoor power systems are designed to supply DC or AC power for different applications, such as cellular base stations. The robust cabinet equipped with a three-point locking system reduces the risk of unauthorized access, burglary or vandalism. It also protects the telecom and power equipment, as well as the batteries, against extreme weather conditions, thereby ensuring a long service life. Standard cabinets have IP54 (and optionally IP55) protection rating in industrial environments. The cabinet can be equipped with additional supporters for hardware, enabling a higher level of integration for space-critical applications. In addition, the battery (or user) compartment can be separated from the rest of the equipment.

Climate management
An integrated climate management system controls the temperature inside the cabinet, providing optimal operating conditions for equipment and battery. Different cooling/heating units (air conditioners, heat exchangers, fans and air filters, heaters) are available. The advanced climate controller can be used to provide optimal conditions for all equipment by eliminating problems caused by extreme temperatures, dirt and humidity, which are normally present in outdoor environments.
We at Delta understand the need to reduce to the amount of energy consumed by cooling systems. Therefore, we offer a new hybrid cooling solution in the most popular combination: air ventilation and active cooling (AV + AC). This concept uses air ventilation as the main cooling system in low and normal ambient temperatures. In high ambient temperatures, air ventilation is replaced or suppressed by active cooling (AC). This creates significant energy savings. For example, in a typical system with internal heat generation of 1.5 kW installed in a 1.8 meter outdoor cabinet in Frankfurt, Germany, a hybrid (AV + AC) cooling system reduced energy consumption by 70–80 percent when compared to a traditional system using active cooling only. The savings could be even higher in installations where higher internal temperatures (above 30 °C) are accepted. 
Delta OutD product series

Power systems
The power system located inside an outdoor cabinet consists of power conversion modules (rectifiers, invertors and UPS units) and distribution units (with configurable AC and DC elements). Delta's OutD cabinets can be equipped with different types of rack-mounted indoor systems from the CellD Series. Delta's new EnergE high-efficiency rectifiers are the best choice for such applications.