2011.03.03
New Energy Efficient Rectifier launched!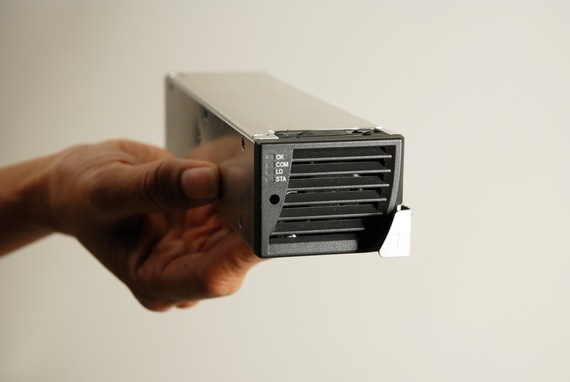 Delta's new DPR 850B rectifier delivers a high efficiency of 95.2% and power density as high as 30.2 W / inch3, keeping Delta in the forefront of energy efficiency and power density in the <1.5kW power range for the telecom power market. Its platform and shelf solutions also increase energy efficiency 3–5% compared to the industry standard for today's low power applications. On top of this, a 37–50% reduction in heat by the rectifiers requires lower installed cooling capacity leading to a total energy savings of 4.5–7.5% compared to the industry standard.
"Delta continuously enhances our energy saving solutions for all applications. Our newest EnergE rectifier DPR 850B is a milestone in energy efficient telecom power, that extends our EnergE product line and brings Delta into the unique position of being able to provide energy efficient power solutions over the whole rectifier range, from a few hundred watts to several kilowatts. This creates the possibility for one-stop shopping of energy efficient solutions for all applications that would simplify our clients' business processes," said Kelvin Huang, Head of Telecom Power Solutions Business Unit, Delta Electronics.

The DPR 850B rectifier platform is one of the Delta CellD series which feature high power for space critical applications. Deploying networks to provide broadband services such as 3G / LTE / Wimax / DSL requires small, energy efficient products. The DPR 850B platform offers valuable space savings which offer a perfect solution for operators to conduct very compact installations in public areas. The platform provides a unique 2.55 kW maximum power capacity and 1.7 kW power respectively, and includes redundancy, battery distribution, up to six load connections and a controller in 1U / 300mm deep ETSI cabinet installations. In outdoor enclosures for Delta's outdoor power systems (OutD), its compact footprint creates additional space that allows operators to install more revenue generating equipment. The DPR 850B's very low audible noise is an additional benefit for installation in urban areas.

EnergE Rectifier Modules Can Eliminate Thousands of Tons of CO2 and Save Carriers Millions of Dollars Annually

Combining this power solution with Delta's renewable energy solutions (RenE) will further support the operator in lowering fuel refilling processes and operating expenses. "It revolutionizes the annual cost structure for installations using AC utility power. In a 3G / LTE network with 5,000 installations, the achievable annual savings may be up to 6.3 Million kWh or $1 million USD and the operator's annual CO2 savings could be up to 1600 tons. In small power applications, such as wireless broadband (LTE) fixed line broadband (fiber to the home), transmission and radio applications, the total number of installations will sum up the OPEX and environmental benefits," said Hans-Peter Glauser, Global Product Manager at Delta.

The new DPR 850B series emphasizes optimizing total cost of ownership for our clients. With features and advantages such as a smart controller, simplified maintenance processes, light weight, less raw materials and green manufacturing, it marks a milestone for smart green solutions from environmental aspects of product definition, design, manufacturing, transportation, installation, and operation. "We believe that this holistic view of environmental aspects is fully in line with the long term interest of our society's evolution and there are no contradictions at all. It aims to secure a sustainable future for coming generations in line with our clients' business perspectives," said Peter Hofstetter, Head of R&D of Telecom Power Solutions Business Unit at Delta.
More information:
DPR 850B