2011.05.03
New Delta iPhone App Launched!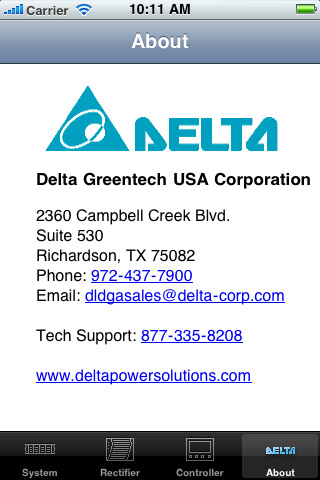 Delta launched a new Delta Power iPhone App for Telecom Power Systems in North America. The new App provides product, application, and ordering information for product platforms developed for the North America Market.
The "Delta Power" App is the first iPhone App of its kind in this product application space providing detailed product support for telecom power systems. This free App available on the Apple App Store allows users to start with high level system information and drill to systems specifics including supported power modules, controllers, and additional products useful for matching Delta power products to the customer application. Input requirements and output characteristics provide customers with a value tool for systems selection and ordering. Photographs and specifications are also provided for reference.
New developments are in process to provide native support of the iPad as well as other platforms. To download App, please go to iTunes:
http://itunes.apple.com/us/app/delta-power/id433442450?mt=8&ls=1