2011.09.06
Delta Soest Open Day Celebrating 105th Anniversary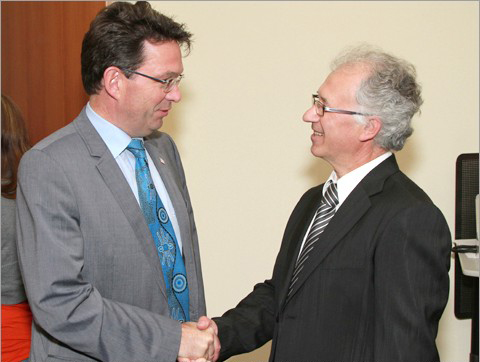 On 16 July 2011, Delta Energy Systems Soest celebrated its 105th anniversary as well as the 40th anniversary of Delta Electronics by arranging an Open Day at its premises in Soest. More than 1,000 visitors, including employees and their families, representatives from the City of Soest, universities, as well as neighbor companies, came to the event to learn about the history of Delta Soest and its technology development.

In his speech, Dr. Basile Margaritis, Managing Director of Delta Soest, gave a review of the 105-year history of the Soest office. He highlighted the internationality of the company through its different owners ranging from CEAG to ABB, Ascom and Delta. He also highlighted the big steps taken in product development, starting from a company producing explosion-proof lamps to a high-tech company in the business of power solutions.

Dr. Margaritis emphasized that the acquisition of the Energy Systems part by Delta in 2003 was the right strategy. Delta Energy Systems is now a part of the Delta Group, whose core business is the development of power systems. In a short summary, Dr. Margaritis demonstrated how Delta Electronics has grown over its 40 years from a small company to a market leader. He also impressed the audience with a short film on the Delta Group.

Dr. Margaritis expressed his pride of how the location in Soest has turned around from a former production site to a high-tech R&D center and has thus become a strategic part of the Delta Group. "Delta gives us the freedom to further develop and invest in our facility – in equipment, manpower and space," said Dr. Margaritis. He also emphasized the importance of the cooperation with regional universities, which is a key factor behind Delta's leading technology.

Dr. Margaritis said that the main asset of the Soest facility is the employees. Employees from more than 20 nations are driving the technologies. "We want Soest, with our technology, to be a driving force in achieving Delta's growth objectives," said Dr. Margaritis.

At the end of his speech, Dr. Margaritis demonstrated the close relationship between the Soest facility and the Taipei headquarters by showing a film in which Delta's Founder and Chairman Mr. Bruce Cheng thanked the Soest team again for the excellent work it is doing. The film was produced 4 weeks after Mr. Cheng visited the Soest facility in person.

The Mayor of Soest, Dr. Eckhard Ruthemeyer, also expressed his pride that a major international company is located in the Soest area.