2011.09.22
Delta Introduces New CellD Rack Power System Product Family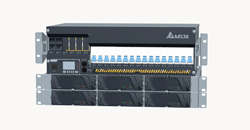 Delta's EMEA development team introduces a new CellD family of rack-mounted telecom power systems (TPS). The product family is based on entirely new DC power systems: CellD 300, CellD 100 and CellD 40. The systems are modular and configurable with complementary products that form a new, complete offering of small power systems. The modular structure of the new CellD family has been developed with Delta Energy Systems' standardization process.
The new product family offers the following benefits:
• Reducing the number of different systems in the production process leads to higher volumes as well as lower purchasing and production costs;
• The structure of the telecom power systems offering is flexible and modular; different platforms and product modules use a variety of components and subassemblies;
• The same rack systems can be used in indoor and outdoor systems, as well in more complex hybrid power systems ;
• The power systems are less dependent on the rectifier type, and the power system definition is not strictly connected with the rectifier type;
• New products are defined by their current capacity as the main factor in differentiating through system design and component choice (cupper bus bars, contactors, fuses, etc.);
• The distribution unit is the main component / module in each product, configurable through different types of rectifiers;
• The system can be configured easily on-site, making the delivery process shorter. This is enabled by shipment of preassembled units directly from factory stock.
The new CellD systems use the new high-efficiency 850 W and 2,900 W rectifiers from Delta's EnergE Series. Combined with the market's leading power density, they are leaders in power conversion, offering solutions for compact space and weight requirements. In addition to that, leading efficiency rates ensure a lower total energy consumption and lead to a smaller environmental footprint. These high power efficiency and power density systems are ideal for space-critical indoor or outdoor applications. The modular structure of the systems offers flexible configurations based on demand, resulting in space and cost efficiency. In indoor applications, the new CellD systems can also be installed into support cabinets (SC family) or wall mounting covers (WB family). The new support cabinets are available in three different heights: 800/1200/2000 mm. The WB boxes are available in three dimensions: 5/8/12 HU. In addition, AC and DC distribution panels, APD 19 IN/3U and DPD 19IN/3U 24 x MCB, come as options to complete the rack-mounted TPS systems.
New CellD Series
CellD 40 and CellD 100 are high-integrated 19-inch rack power systems. They are designed for an output current of 40 A or 100 A. The systems can be equipped with Delta's DPR 850, providing 850 W output power in 1U/1U front form factor. CellD 40 comes equipped with three rectifiers, and the maximum configuration for CellD 100 is six modules. CellD 40 offers one of the smallest environmental footprints on the market. In one 1U panel, there is a complete power system with a maximum of 2.55 kW output power. The same space-critical environment is ideal for CellD 100, with more than 5 kW of output power in 2U panel with all distributions and connections. All systems, CellD 300, CellD 40 and CellD100, come with Delta's most advanced PSC3 controller. The systems also come equipped with optional sliding rails for easy access to the connection points of output cables.
CellD 40 and CellD 100
CellD 40 and CellD 100 are equipped with hydraulic magnetic circuit breakers (MHCB) for loads suitable for 1U distribution shelves. These breakers can be installed or reconfigured just on the site. The design of the shelf and special distribution board makes this process easy.
CellD 300

CellD 300 has as its core element the new 19IN/3U distribution panel, designed for 300 A current load. CellD 300's maximum configuration includes two shelves and six rectifiers. It offers a wide range of different loads and battery circuit protection. CellD 300's load distribution is prepared for a maximum of 16 poles for thermal magnetic circuit breakers (MCB), and the battery side has six poles for hydraulic magnetic circuit breakers (MHCB).

Contacts
For your local Delta office or partner in EMEA region, please go to Contacts.