2011.12.16
Delta Announces a New Telecom Power System: CPS 1500B Series High Efficiency DC/DC converter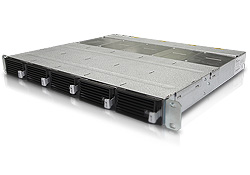 Delta High Efficiency DC/DC Converter Helps Eliminate Tons of CO2 and Saves Carriers Millions of Dollars Annually
Taipei, Taiwan, Dec. 14, 2011- Delta Electronics, Inc., a world-leading power management solutions provider, announced its new CellD product series, featuring the CPS 1500B DC/DC converter, an advanced 1U converter power system. The new converter sets a new standard for energy efficiency and density for +24V/-48V and -48V/+24V dual voltage telecom power solutions. The new CPS 1500B performs power conversion with up to 95% efficiency, which is an outstanding 5-8% increase in energy efficiency compared to currently available models on the market This new standard for world class DC/DC density provides rack unit space savings of up to 83%, making the CPS 1500B a perfect solution for space critical applications.
"Delta is committed to our mission of 'providing innovative, clean and energy-efficient solutions for a better tomorrow.' Our latest CPS 1500B DC/DC converter is a milestone in energy efficiency for telecom power systems*. The Delta DC converters complete our InD and OutD systems to achieve total site power solutions globally." said Kelvin Huang, head of the Telecom Power Solutions Business Unit at Delta Electronics.
The compact size and extended operating temperature range make this series suitable for both indoor and outdoor applications. Installation is easy as all Delta converters have connectors at the rear and are hot-pluggable. Fan cooling with speed control ensures near silent operation. Its compact footprint creates additional space that allows operators to install more revenue generating equipment. The low audible noise is an additional benefit for installing the CPS 1500B in urban areas.
"By combining this converter power system with Delta's EnergE rectifiers, Delta provides unique energy efficiency for dual voltage power plants", said Douglas Wilkins, product manager for telecom power solutions at Delta Greentech Inc. The significantly higher efficiency lowers the energy consumption required for cooling. Replacing existing average efficiency dual voltage power plants with this new converter series will provide OPEX savings of up to 1,500 USD annually per site. This is based on an average utility rate of 0.11 USD / kWh. It will also reduce annual CO2 emissions by up to 11500 tons for a network with 5000 sites.
Learn more about Delta products at www.deltapowersolutions.com/
*A note on telecom power systems
Telecom power systems secure telecommunication services in case of power interruptions or fluctuations. The essential parts of the system are rectifiers, batteries, and a power system controller. The rectifier converts alternating current (AC) to direct current (DC) and provides the power necessary to charge the batteries. The power system controller monitors and controls the entire system and site power infrastructure, maximizes battery life, supports energy saving and informs the operator of maintenance needs.
---
About Delta Group
Delta Group is the world's leading provider of power management and thermal management solutions, as well as a major source for components, visual displays, industrial automation, networking products, and renewable energy solutions. Delta Group has sales offices worldwide and manufacturing plants in Taiwan, China, Thailand, Japan, Mexico, India, Brazil and Europe. As a global leader in power electronics, Delta's mission is, "To provide innovative, clean and efficient energy solutions for a better tomorrow." Delta is committed to environmental protection and has implemented green, lead-free production and recycling and waste management programs for many years.
For more information about Delta Group, please go to www.deltaww.com.
Telecom Power Solutions Business Unit
As a part of the Delta Group, the Telecom Power Solutions Business Unit is a power system provider; and the partner of choice for telecom network manufacturers, operators and integrators worldwide. Delta provides its customers with a wide range of power products and global services. The core of our business is securing the vital processes of our customers with innovative technology. Delta also aims to promote sustainable development with energy-efficient solutions.