2011.02.22
Chairman Bruce Cheng honored as Ernst & Young's Entrepreneur of the Year and CSR Entrepreneur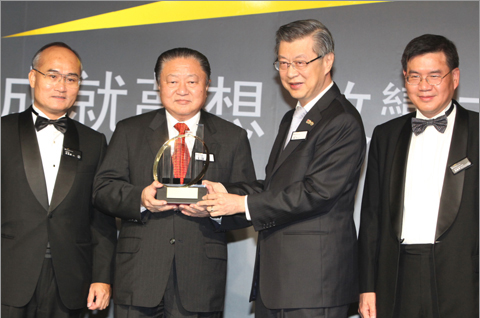 Delta Electronics Founder and Chairman Mr. Bruce Cheng received the Entrepreneur of the Year and CSR Entrepreneur awards at the Entrepreneur of the Year Taiwan Awards Gala hosted by Ernst & Young in Taipei on 11 November 2010. Dr. Paul S.C. Hsu, the head of an independent judging panel, said that Mr. Cheng, also known as Mr. Green, is an entrepreneur who executes a green policy with determination and continues to tackle global warming by developing high-performance, energy-saving solutions.
"Delta has made CSR an integral part of our company's operating strategy. To face the global warming crisis, Delta is actively pursuing innovative R&D, developing high-performance energy-saving solutions, promoting education in energy conservation, and carrying out our corporate mission. We will continue our sustained efforts to reduce global warming and to ensure a sustainable future for mankind," said Mr. Cheng.

Mr. Cheng will represent Taiwan in competing for Ernst & Young's World Entrepreneur of the Year award with the best entrepreneurs around the globe. Other award categories included International Entrepreneur, Pioneer Entrepreneur, Culture Entrepreneur, Elite Entrepreneur and Emerging Entrepreneur. The Entrepreneur of the Year Awards program is a truly global business award, which honors entrepreneurs whose ingenuity and perseverance have created sustained and successful business ventures.