2011.04.29
APS Inverter Power Systems Now Available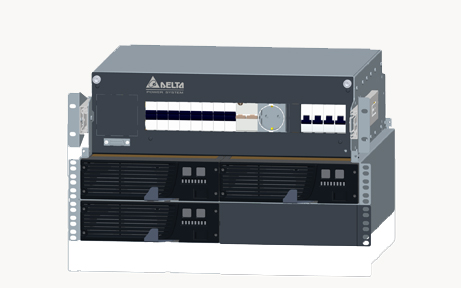 Delta has launched three new modular inverter system platforms in the power ranges of 4.5 kVA, 7.5 kVA and 30 kVA. The systems can be integrated into indoor or outdoor site cabinets.
The modular systems can be built as standalone inverter systems or combined with Delta's static switch. Variable input and output connections are available. In addition to providing inverter systems "as is", Delta can integrate an inverter into any standard 19-inch housing. For example, inverter integration is a standard option in Delta's DC power system DPS 2900B-48-12 TFF.
CellD APS 1500A-230 systems are compact solutions designed for 19-inch rack assembly. They can be integrated into both indoor and outdoor solutions. The case provides an optional sliding mechanism to improve cabling access during installation. The CellD platform includes three different power configurations: three inverters and a static switch (6U high), four inverters (6U high), and two inverters (4.5U high).
MidD APS 1500A-230 is built inside an 11U high sheet metal case, which can be mounted on the wall or on top of a plinth. The case dimensions are 600 mm (W) x 489 mm (H) x 480 mm (D). The system can provide up to 7.5 kVA with a combination of a static switch and six inverters (n + 1). Optionally the system can be built with eight inverters for standalone maximum power of 12 kVA.
CabD APS 1500A-230 is provided in Delta's indoor ETS cabinet (2000 mm x 600 mm x 600 mm). The cabinet is floor-mounted with optional adjustable feet for installation on an uneven surface. With a static switch, the load is rated at 27 kVA and the system can be delivered with space for 20 inverters for n + 2 redundancy. As a standalone installation, the maximum power is 30 kVA. Also the CabD platform offers variable output options, including RCDs and an IEC socket.
The systems are based on Delta's API 1500A-230 inverter and static switches. The inverter delivers energy savings through high efficiency and very low output voltage distortion. The static switch offered for CellD and MidD inverter systems is Delta's SSW 7500A-230, and the static switch offered for CabD inverter systems is Delta's SSW 30000A-230. The static switches create energy savings and feature seamless switchover at mains failure and synchronization of inverters with AC utility.
For more information, please contact your Delta sales representative.