2010.09.28
Significant diesel savings with SMCS for Vodafone in India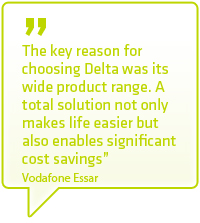 Vodafone Essar is a Mumbai-based mobile phone operator. It is the second largest mobile phone operator in India in terms of revenue and the third largest in terms of customers, serving more than 100 million people in India.

In 2009, Vodafone was expanding in Orissa and Bihar, primarily in suburban and rural areas. At these sites, Vodafone used diesel generators for power backup. Frequent and long power cuts and overall low efficiency led to high operating costs, which were delaying plans for site infrastructure expansion.

Vodafone wanted a smart solution to reduce the diesel consumption of the gensets running at their telecom base stations. The solution would have to deal with poor power availability while providing reliable, regular fuel monitoring.

Delta took the challenge and delivered an enhanced power system control solution, a site monitoring control system (SMCS) that helped in reducing diesel consumption significantly, in addition to lowering operating costs and carbon emissions. Delta also provided Vodafone with real-time remote site monitoring and control features such as critical alarm generation.