2010.01.25
NY Times Columnist Thomas Friedman Joined Chairman Bruce Cheng at "Hot, Flat, and Crowded" Forum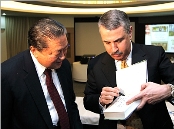 On 11 January 2010, Delta's Founder and Chairman Bruce Cheng hosted the renowned journalist and author Thomas L. Friedman at Delta Electronics in Taiwan. Friedman, a columnist for the New York Times, is regarded as one the most influential journalists in the world.

In his welcoming speech, Mr. Cheng commended Mr. Friedman for his "efforts and contribution to focus people's attention on the huge climate problems we have created," and said Mr. Friedman's most recent book Hot, Flat, and Crowded is "the best tool to tell the people what we should do." Mr. Cheng reaffirmed that Delta is doing whatever it can to make sure that we continue to improve the energy efficiency of all our products.

Mr. Friedman visited Taiwan to give a speech at the "Hot, Flat, and Crowded" forum held on 12 January 2010 in Taipei. In a panel discussion held at the Taipei International Convention Center, Friedman, Cheng and other influential people shared their views on the development of renewable energy and environmental protection with a full auditorium.