2010.03.17
New Features for Telecom Power System Controllers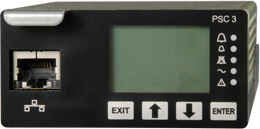 New software for PSC 3
News from the controller front! At the beginning of the year, we introduced the new software version (v2.50) of our PSC 3 telecom power system controller. PSC 3 now includes a new data-logging functionality, which enables the flexible logging of events, alarms and measured data. The key benefit of this functionality is that it allows you to get a good overview of how the power system is performing without physically visiting the site. In addition, the logged data helps in planning and optimizing maintenance procedures.
PC-free adjustments for CSU 502 The CSU 502
The CSU 502 controller's system parameters are now even easier to adjust onsite. The maintenance technician no longer needs a PC for commissioning or maintenance. Instead, the technician can use a control stick to navigate the user-friendly LCD display menu. In addition, we have developed an optional fan control module for CSU 502 to enhance its performance in outdoor applications. The fan control module allows you to optimize the cooling performance and energy efficiency based on actual temperatures – with an integrated user interface for all functions.