2010.09.28
New applications for the PSC 3 – property monitoring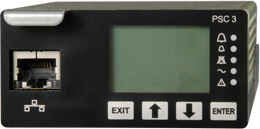 The Finnish telephone company Etelä-Satakunnan Puhelin chose Delta's power system and the PSC 3 as one of its key modules. In their application, the PSC 3 takes care of the usual power system monitoring, covering voltages, currents, temperatures and battery management. In addition, the PSC 3 is used for monitoring and managing doors, interior and exterior temperature, fans, heaters and coolers in the premises.

The PSC 3 enables Simple Network Management Protocol (SNMP) over Local Area Network (LAN), which is especially important in property management.

"Delta's controller was our choice because of its versatility. The adaptability of the control logic and the remote use possibilities make property management easy," said Jyrki Vihtari, the man responsible for installations at Etelä-Satakunnan Puhelin. "Remote monitoring is also important for safety. Real-time information ensures that everything is as it should be on the property."

In addition, Etelä-Satakunnan Puhelin has other uses for Delta's controllers. The company is using the control logic of the PSC 3 without the power system control functionality. The integration capabilities of Delta controllers allow a setup in which the PSC 1000 controls a device while alerts are made remotely using the PSC 3.

"We believe that the PSC 3 can be used even more broadly in property monitoring and management. It is cost-efficient and in some cases crucial to receive real-time information on both the status of the power unit and events on the property. Why not combine these and make the customer's life easier?" said Reijo Nieminen, Customer Service Manager at Delta. "There has been much interest in using the PSC 3 for such applications," Nieminen continued.

"Delta's controller is superior due to its versatility. There is real added value – in terms of both operations and capital expenditure – in using one device to control and manage many things," Vihtari concluded.
More information