2010.09.26
Delta OutD thermo electric cooling – hot news in energy conservation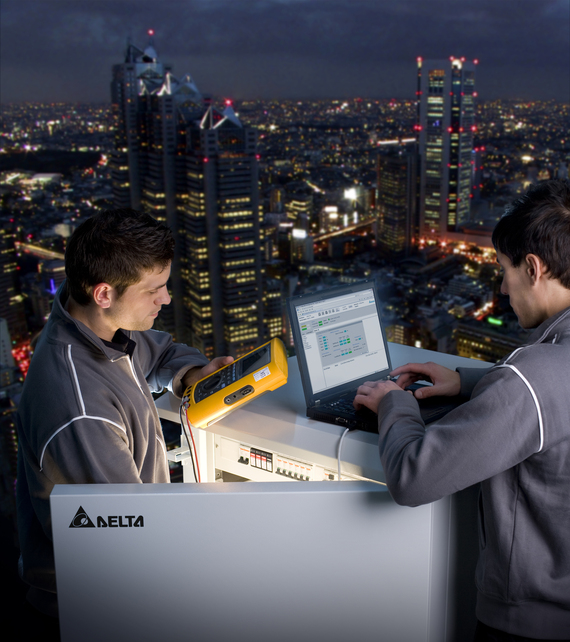 Climate management at a telecom site requires almost as much energy as the active equipment – up to 50% of all energy consumption. Delta's advanced solutions for optimized climate management bring savings of up to 80% or more, depending on the climate conditions and the acceptable temperature of the cabinet.
These results are achieved using hybrid cooling, which refers to the optimized use of different cooling methods. Traditional methods of climate control include air ventilation using fans and filters (AV), active cooling (AC) and heat exchangers (HEX). However, a combination of air ventilation and active cooling (AV + AC) and a combination of heat exchangers and air ventilation (HEX + AV) revolutionize energy efficiency – as well as the cost structure of climate control.
One of the new options Delta offers is the thermoelectric cooling of battery cabinets. The elegance of this solution lies in the fact that batteries cannot tolerate as high temperatures as telecom equipment or power supply modules. In fact, a temperature increase of ten degrees centigrade halves the lifetime of batteries. So, we thought, why not save energy by separating the battery cabinet and cooling that part a bit more? A thermoelectric cooling unit is an optimal solution for cooling a battery compartment, as it is easy to install and use, in addition to being small, more silent and maintenance free compare to standard AC units
All this means that the intelligent cooling solution lowers not only CO2 emissions and operating costs, but also capital expenditure, due to optimized investments in cooling capacity.
For further information, please contact our sales representatives or read one of our previous
articles
. More information about OutD here.