2010.10.18
Delta at the Energy Needs for the Telecom Sector event in India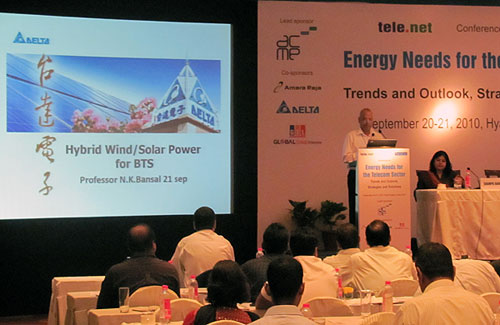 Delta India participated at the Energy Needs for the Telecom Sector event held on 20–21 September 2010 at Hyatt Regency Delhi. The conference was organized by India Infrastructure Publishing. The objective of the conference was to highlight and examine the energy needs and requirements of the telecom sector. The conference addressed various aspects of energy needs and requirements, and the subject of renewable energy as a niche gaining popularity among telecom providers.
At the conference, Dr. Narendra Kumar Bansal, Consultant, Renewable Energy, Delta India, presented a technical paper on hybrid wind/solar power Delta RenE products, for BTS. He shared his views on renewable energy options and the current and future economics (OPEX and CAPEX) of the telecom sector in India. In his presentation he discussed the challenges associated with improving the energy efficiency of fixed and mobile telecom networks, reducing associated carbon emissions, and utilizing renewable power sources such as solar and wind energy, and fuel cells.
Delta also showcased its product range in, for example, telecom power solutions, display solutions and UPS systems.
Conference participants discussed business opportunities involved in overcoming critical challenges, and the future scope and roadmap of grid power availability, fuel prices, energy cost reduction and many others challenges faced by telecom providers. Various topics were discussed through in presentations and comments followed by a panel discussion by representatives of key telecom companies such as Tata Teleservices, GTL, Idea Cellular, Indus Tower, and Bharti Infratel. 
SolutionE