2009.09.08
PSC 3 telecom power system controller news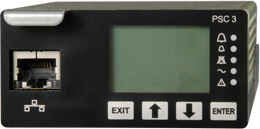 Easy data transfer and software update

The brains of a telecom power system, the PSC 3 controller is making customers' life easier still with new features. Version 2.40 makes sharing information between the controller and a laptop possible without a TFTP application. Now you need nothing but a web browser, which makes both data transfer and software updates fast and simple. PSC 3 Version 2.40 has been in production since Q2/2009.

More advanced cooling - PSC 3 expansion with fan driver module

Cooling is an energy-intensive part of the operation of a telecom base station. Improved cooling efficiency is therefore significant for lowering costs and reducing the environmental footprint. The PSC 3 controller is now expandable with a fan interface module that controls the fan speed.

"This is the smart feature that's been missing. It doesn't make sense to use full fan capacity unless it's really necessary. This expansion module adjusts the speed based on the temperature, and thus lengthens the lifetime and change cycle of fans. Of course, the module also lowers energy consumption significantly, and reduces fan noise," says Matti Heikkilä, Product Manager, Controllers, Delta Energy Solutions Business Group.

PSC 3 with a fan supervision module is available in Q3/2009 for all Delta OutD systems.