Global manufacturing setup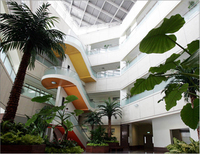 The UPS, telecom power and photovoltaic products of Delta are manufactured in Europe, South America, India, China, Taiwan and Thailand. The key components are manufactured at our sites in China and Thailand. For other products, Delta Group has a number of plants around the world.
Delta's manufacturing plants have ISO 9001 certification and various other certifications. In addition, the Tainan and Rudrapur plants are green buildings, meaning a lower environmental impact.