2010.01.25
Three Days Energy Efficiency Partner Summit in Dubai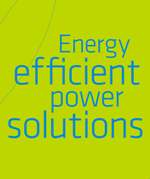 Delta would like to thank everyone who made it to our first ever partner summit held on 12–14 January 2010 in Dubai, the United Arab Emirates (UAE).
Delta's management teams from Europe, the Middle East, Africa and UPS business headquarters were pleased to meet and work with partners from 11 countries, including Cameroon, Egypt, Iran, Jordan, Kenya, Lebanon, Malta, Pakistan, South Africa, Saudi Arabia and the UAE. Over three intensive days, the partners worked on how to capture new market opportunities, learned more about Delta, and of course, made valuable contacts.
Focus on the Middle East and Africa
The Middle East and Africa (MEA) markets are among the fastest growing and developing markets in the world. We believe that this momentum will boost UPS demand over the next decade. Delta is working on strengthening relations with local partners and providing best-in-class energy-efficient products.

MEA customers need UPS to supply reliable power and to protect their precious data and electronic devices from power problems. To this end, Delta announced two high-efficiency products, the NH Plus series and the GAIA series, to partners in this region. 

What can we do for you? Let us help you in building a profitable and sustainable business!